Hi-van is supported by its audience. When you purchase using our links, we may earn an affiliate commission (no added cost to you). Learn more
Finding suitable lighting for your campervan is one of the most important things you need to do when starting your journey into van life. After all, you'll need adequate lighting for nighttime lounging, eating, and other tasks inside of your campervan. However, there are many options to choose from, and it can be difficult pinpointing which type is best.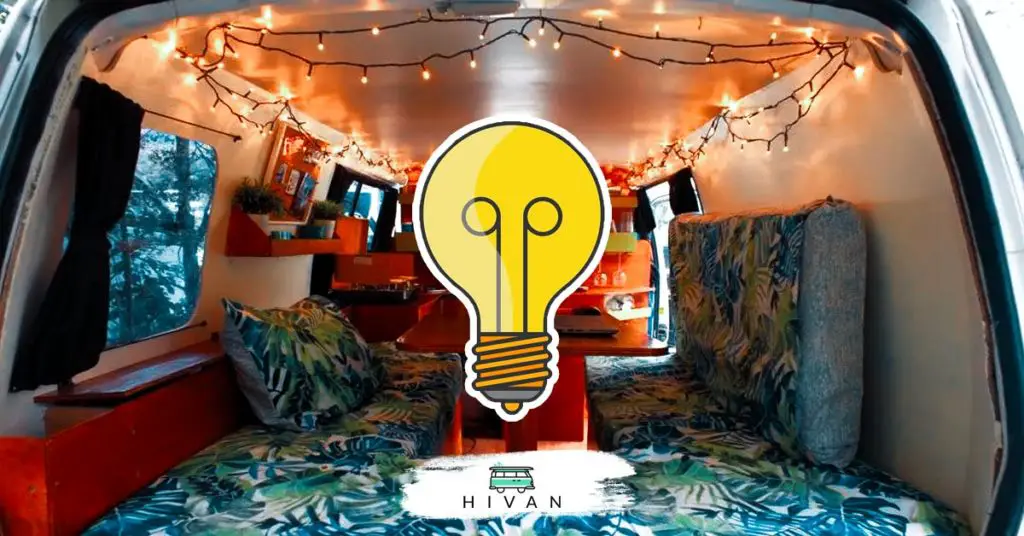 12-Volt recessed lighting, more commonly called "puck lights," is best for a campervan. Puck lights are LED bulbs that typically come in a round or oval shape. They mount to virtually any surface and provide a bright source of light without overheating. 
In this article, I'll explain each factor you need to consider when choosing lights for your campervan. You'll also learn what lighting types will work inside of a campervan before you make your final choice. So let's get started, shall we?
---
Types of Campervan Lighting
There are two umbrellas that campervan lighting falls under, which are "wired" and "non-wired." Wired lighting requires access to an AC outlet or hardwiring into 12-Volt DC power, while non-wired lighting can stand independently.
Non-wired lighting gets its power from a solar, battery, or rechargeable port and is best for campervans without access to a power source.
Let's now take a closer look at the different types of campervan lighting.
Recessed Lights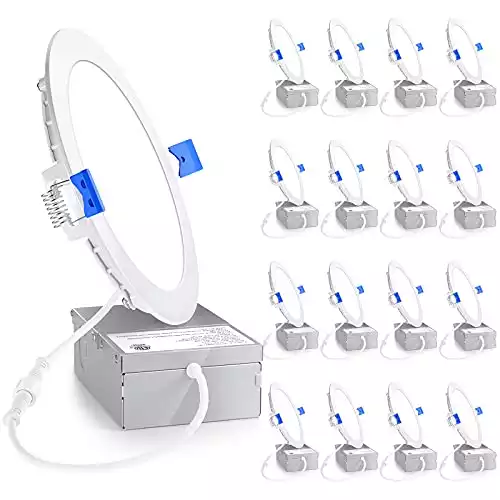 If you make a purchase, you support Hi-van.com by allowing us to earn an affiliate commission (no added cost for you).
Recessed lights are the most commonly used lighting sources in campervans because they burn at much lower temperatures than other lighting types. 
They're also more efficient, out of the way, and don't take much effort to install. If you're trying to find permanent lighting for your campervan, puck lights are ideal because they don't stick very far out of the ceiling, and you won't have to worry about smacking your head against them all the time.
Most modern recessed lighting comes with LED bulbs. With that said, it's important to keep in mind that you need to install this type of lighting alongside your conversion process. If you don't, you'll need to take the wall and ceiling apart to wire the lighting through.
LED Light Strips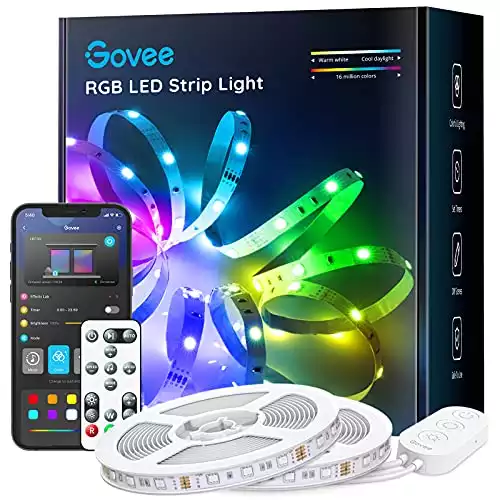 If you make a purchase, you support Hi-van.com by allowing us to earn an affiliate commission (no added cost for you).
LED light strips come in a variety of colors and help give a campervan a modern look. This type of lighting is ideal for people who want versatility and the flexibility to change the lighting look as often as possible. Many LED light strips come with the ability to change lighting modes. 
They're also easy to install and generally come with a dimming option to lower the lights at night. However, the strips aren't very flexible when bending them to the left or right. 
This inflexibility can cause a messy finish.
Fairy Lights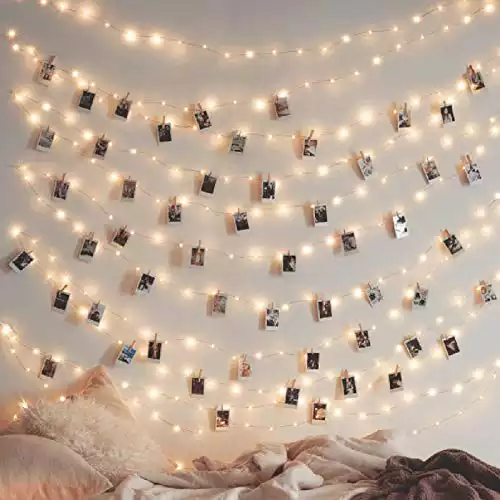 If you make a purchase, you support Hi-van.com by allowing us to earn an affiliate commission (no added cost for you).
Fairy lights are more of an "aesthetics" option. They offer adequate low light and are a fun way to design your camper to your style. Although they're suitable for decorative purposes, they don't work well as the primary lighting source.
---
Factors To Consider
When deciding between different types of campervan lighting, there are various factors you need to consider. Bulb efficiency and the power supply you have are among the most important. Brightness levels and installation are also important to keep in mind.
Let's take a look at more factors that you should consider when choosing campervan lights.
Bulb Efficiency
The efficiency of the bulbs you choose is important because you want bulbs that will last as long as possible. 
LED lights are the longest-lasting lights currently available. This type of lighting can last anywhere from 25k hours to 200k hours, depending on the brand. LED lighting achieves this because the temperature each bulb burns at is much lower than its incandescent or fluorescent counterparts.
When shopping around for different lighting options, it's best to stick with LED lighting precisely because they last longer and don't give off nearly as much heat as other types.
Power Supply
Because lighting involves a need for electricity, you need to bear in mind your available power supply. The available power is limited if you already have power running to refrigeration systems, fans, and other electronics. 
Unless you create an entirely different power supply system, like installing solar panels, you'll want to use lighting that needs less power.
LED lights, in general, use far less electrical power than other types of lighting. 
Standalone lights that create their own power are also good in this case. If you don't want to shell out part of your budget for light installation, some standalone lights run off of solar power, as well as disposable and rechargeable batteries.
Brightness Levels
Depending on what you need lighting for, you may want to pay attention to the brightness levels of the lighting you choose. Some lighting types may come with adjustable brightness settings, while others may only have one static level.
How Many Lumens Do I Need?
Lumens measure how much light you get from a particular bulb. A good general rule to follow is the higher the lumens, the brighter the bulb will burn. 
The number of lumens you need depends on the amount of brightness you want from your lighting system. Concerning watts, a 100W incandescent lightbulb would amount to roughly 1600 lumens.
Installation Process
Finally, the amount of work it will take to install a particular type of lighting should be considered. If you aren't a fan of DIYing things, you may want to factor in the cost of professional help or go with a lighting option with as little manual work as possible.
---
Parting Thoughts
The type of lighting that works best in your campervan ultimately boils down to what your needs are. If you're looking for a permanent option that offers high efficiency, recessed lighting should be your go-to. 
However, if you want more decorative lighting with a low lumen count, you may prefer stringing up fairy lights around the campervan.
Regardless of which lighting you choose, it's best to choose lighting that burns at low temperatures and won't give off too much heat. Each of the lighting types mentioned here fits those criteria, and I'm confident you'll make the right choice.
Find this content useful 🙂 ?
Subscribe to our Newsletter and get a free electric diagram + shopping list.