Solar Panels are a crucial component of the RV solar power system geared for the off-the-grid van life; if you say freedom, we say solar power! Flexible solar panels are lighter, usually easier to install, and don't reduce your car's aerodynamic.  
Flexible solar panels, being frameless, require adhesives to affix them to the roof of an RV. This type of solar panel requires an additional moisture barrier called a side or edge seal.  Sealants are also used to reinforce and strengthen weak spots like edges and corner junctions, making the solar panel array more structurally stable and weather resistant.
What's the best adhesive you can use to fix flexible solar panels on your van or RV's roof?
Jump directly to our Selection of best Adhesives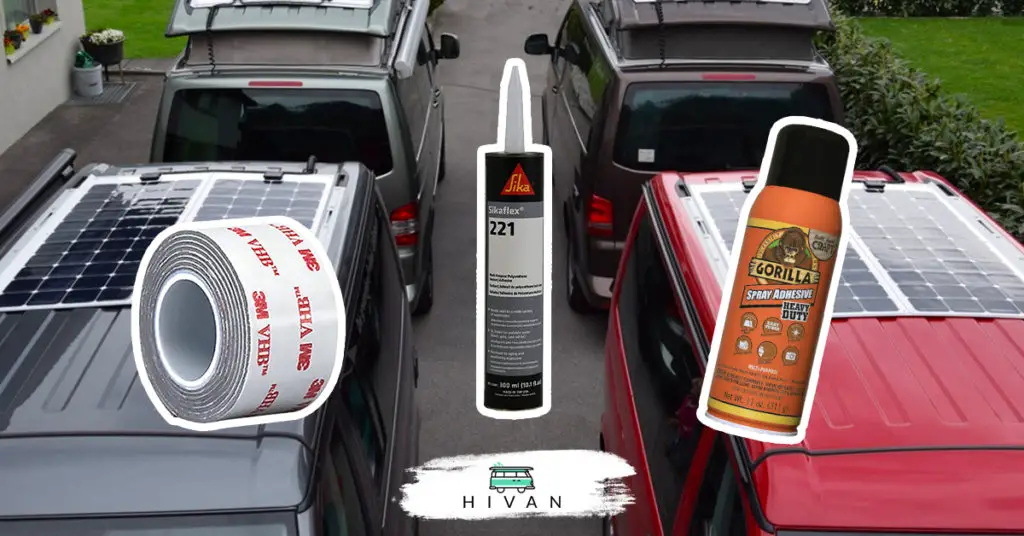 3M and Sika are the brands that pop up a lot when searching for the right adhesive for flexible panels. These two brands have excellent products, such as weather-resistant, fast curing, and long-lasting adherence to diverse surfaces (abstracts). They are well-known by professionals and regular customers not only because they've been in the business of sealants and glues for ages but also because their products are ahead of the competition.
Let's talk about the Sika adhesive first. This is a Swiss brand diehard van-lifers vouch for with their lives. I personally recommend the Sika flex 252 for numerous different situations, and securing your flexible solar panels to your RV's roof is one of them. I also recommend using the Sika flex 212 product range as it is specifically formulated and advertised as a flexible solar panel adhesive.
Secondly, you also have another American brand, 3M, that produces excellent adhesive tapes widely used in van conversion and RV repairs. They have a lot of different types of tape models. You want to have a high-strength tape that has a double-sided acrylic foam coating. It needs to stand harsh environments, high/low temperatures and offer an insulation backing to the solar panels.
My personal favorite is the 3M VHB adhesive tape. You can choose between different thicknesses, and it's good to leave a certain space between the panels and the roof to let a small airflow pass under and, therefore, allow the moisture to get out.
3M also has an adhesive spray that works well for fixing flexible solar panels. It's the 3M Hi-Strength 90 Spray, which can bond metal and flexible panels. It's advertised as extremely strong, and it's easy to use as a spray. Remember that it is crucial to have both surfaces perfectly cleaned before applying any glue or adhesive to them. You don't want to have your solar panels ripped off by the wind on a highway because your surfaces weren't clean when you applied your adhesive.
---
Important Points when using solar panel adhesive
ALWAYS clean your roof first. You can use soapy water to have a clean surface but using alcohol or benzine is even better.
Do the same with your solar panel (only the part that will be glued to your van. Don't use any chemical other than soapy water directly on the surface of your solar panel). You want the areas that will be in contact with your RV's roof perfectly clean as well.
Mark-up the areas where you will fix your flexible solar panels. You won't have a second chance, so you'll want to be as precise and preventive as possible. It allows you to plan the space and different tools you'll need.
Apply your adhesive on either the solar panels or the van surface (or both, depending on your adhesive characteristics).
Place your solar panels following the guides you marked previously. Important: try to stick it correctly from the first time, especially if you're using tape. Indeed, it will be complicated to change its position afterward.
Apply pressure all-round the panel such that the tape/glue gets in contact with both panel and roof. Double-check you did this correctly. You don't want to discover some parts where the adhesive has unnecessarily dried because it wasn't in contact with your roof.
When installing your flexible solar panels, you want to keep in mind that their performance will depreciate as their temperature increases. That's why most of the time you'll see traditional solar panels (not flexible) mounted with a gap under them, allowing air to flow and therefore cooling the installation.
Related Guides:
– How do solar panels work on a van? (an in depth look)
– How do you clean flexible solar panels?
– How efficient are flexible solar panels?
It's different with flexible panels. There are generally glued directly to their support and don't have any air flow going under them.  Thus the heat produced is directly transferred to the structure they are glued to.
Even though it's not always easy or even possible to do, try to have a small airflow passing under your solar panels. It will increase their performance by keeping them cooler.
An excellent way to do this is to mount each panel on top of a sheet of 3mm aluminum composite sandwich (i.e., typically thin aluminum sheets with a layer of polyethylene or similar between them). Polyethylene will help to diffuse the heat.

Here's a perfect video by RV with Tito that will walk you through this type of installation:
---
Best adhesives for flexible solar panels
The below-listed products are some of the most recommended products for installing your flexible solar panel onto the roof of your camper van. If you're currently building your van and installing your solar system, flexible solar panels are a great and, I think, the easiest solution to choose from.
3M VHB Tape
3M VHB (Very High Bond) adhesive tape is a popular option for mounting flexible solar panels due to its durability, weather resistance, and ability to bond a wide range of materials. It is a double-sided tape that comes in various widths and thicknesses to suit your specific mounting needs.
To maximize bond strength, clean the mounting surfaces with rubbing alcohol and apply firm pressure when attaching the tape.
3M is a renowned and trusted brand in the adhesive world. You can use this type of tape to install your flexible solar panels. Don't forget to correctly clean both surfaces before applying the tape. Otherwise, you can be sure it won't stick as well as it's supposed to.

Pros
A very effective and super strong double-sided mounting tape.
An added insulation layer to the flexible solar panel.
Adheres to a variety of plain or painted surfaces, including glass, metals, plastic, wood, and concrete.
Highly resistant to any van life-related environments.  It can stand high and cold temperatures, as well as UV light, solvent, and chemicals. It ensures perfectly sealed bonds against water and moisture, even in harsh environments.

Cons
Not paintable
Difficult to remove/scrape off if you didn't apply it correctly from the first time.
---
EternaBond Tape
Eternabond tape is a highly durable and versatile adhesive option that is particularly well-suited for outdoor applications. Its strong bonding capabilities and resistance to UV exposure make it a reliable choice for mounting flexible solar panels.
This tape requires the mounting surface to be clean and primed with Eternabond primer before applying the tape for optimal results.
You'll usually want to use this EternaBond Roof Repair on the panel's fixations rather than directly on your panel. You can check this video for more details.
You won't be able to use it directly under your panels since it's one side only tape. It's used to repair RV roof leaks, and therefore it is incredibly sticky and 100% waterproof.

Pros
Strong adhesive that can last many years.
100% weather resistant.

Cons
Hard to take off. Be extremely cautious if you need to take it off. Do it slowly in order not to rip off the surface.
---
Sikaflex-221
Sikaflex-221 is a polyurethane-based adhesive and sealant that is known for its flexibility, strength, and weather resistance.
It is an ideal adhesive for mounting flexible solar panels, as it forms a strong bond with a wide range of materials while maintaining flexibility. Sikaflex-221 can be applied using a simple caulking gun, allowing for easy application and clean-up.
We have many people reporting no issue at all after five years or more of usage. Keep in mind that the product itself (even not opened) has an expiration date and that you want to use it before it hardens.
If you are using solar panel mounts/fixations on the roof of your motorhome, I would strongly recommend you to use this over the EternaBond Tape.
It is completely resistant to saltwater and can withstand the harshest conditions experienced at sea.
It is also the most suitable and secure adhesive for attaching flexible solar panels to a caravan roof since it can withstand the most extreme weather conditions.

Pros
Withstands extreme weather conditions.
They are specifically designed for mounting flexible solar panels.
Available in white and black
Renowned and trustworthy brand

Cons
Does not have insulation properties.
Difficult to remove
---
3M Hi-Strength 90 Spray
Another adhesive option from 3M is their Hi-Strength 90 Spray.
This spray adhesive is designed for bonding materials like foam, plastic, and metal, making it suitable for flexible solar panel applications.
The adjustable spray nozzle allows for precise application, while the fast initial grab helps hold the panel in place until it reaches its full bond strength.
It comes with a variable-width spray nose pattern that allows you to apply it correctly on the desired surfaces (which you previously cleaned).

Pros
Permanent
Fast-acting
Weather-proof

Cons
Discolours when exposed to weather elements.
Impossible to remove
Won't last as long as polyurethane sealants
---
Gorilla Heavy Duty Spray Adhesive
I never used it personally but heard many people saying that it was the only spray adhesive that worked in their situation.  You can see it's a good product by its popularity on Amazon and by reading the dozens of positive feedback and reviews.

Pros
Permanent
Does not discolor
Weather-proof

Cons
Slow curing
Permanent adhesive-Impossible to remove
Won't last as long as polyurethane sealants
This range of adhesives and sealants will likely reduce the installation cost of your solar array on your campervan. These different solutions are readily available online and from various specialists, hardware stores make. It shouldn't take you more than a day to install your flexible solar panels (unless you have many).
Once more, don't forget to correctly clean the area you want your panels to be; otherwise, it won't stick correctly no matter the adhesive you chose.
---
Frequently Asked Questions
What type of adhesive is suitable for mounting flexible solar panels?
Suitable adhesives for mounting flexible solar panels include polyurethane sealant, adhesive sprays, and strong double-sided tapes. Some reputable adhesive brands for solar panel installations are Sikaflex-221, 3M Hi-strength 90 spray, and 3M VHB industrial adhesive tapes.
How do you secure flexible solar panels without drilling?
Flexible solar panels can be secured without drilling by using adhesives such as polyurethane sealants, adhesive sprays, or strong double-sided tapes. It is essential to thoroughly clean the surface of both the solar panel and the mounting surface before applying any adhesive to ensure proper bonding.
Which Sikaflex product is best for attaching solar panels?
Sikaflex-221 is a popular adhesive product for attaching solar panels. It is a versatile and durable polyurethane sealant that offers excellent adhesive properties.
How can you increase the lifespan of flexible solar panels?
To increase the lifespan of flexible solar panels, ensure proper installation and mounting using suitable adhesives. Additionally, regularly clean the panel surface to remove dust and debris, which may affect its efficiency. Also, inspect the panels for any damage or wear over time, and address any issues promptly to ensure optimal performance.
Are there any recommended temperature guidelines for using adhesive on solar panels?
When using adhesive on solar panels, it is crucial to follow the manufacturer's guidelines for temperature. Generally, adhesives perform best when applied at temperatures ranging from 50°F to 100°F. However, check the specific temperature range provided by the adhesive manufacturer for optimal performance and durability.
What factors should be considered when choosing an adhesive for solar panel installation?
When choosing an adhesive for solar panel installation, consider factors like compatibility with the panel and mounting materials, the adhesive's strength and durability, and resistance to environmental conditions, such as heat, moisture, and UV radiation. Also, consider any temperature guidelines provided by the adhesive manufacturer to ensure proper bonding and performance.