Hi-van is supported by its audience. When you purchase through links on my site, I may earn an affiliate commission. Learn more
You've upgraded your camping game with an off-road trailer, but maybe you're wondering if you could take it to the next level. While on the campgrounds, you may have seen some impressive off-road trailers. But what is it that makes a good off-road trailer?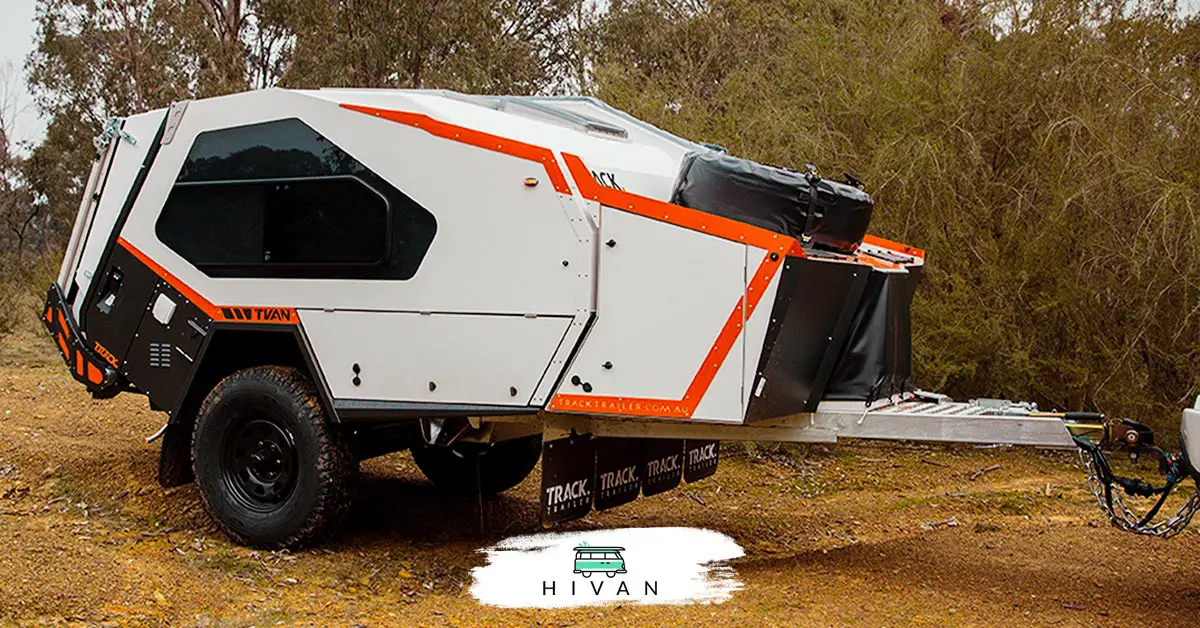 Here are 5 of the best features for your off-road trailer:
The basics. 
Power source. 
Awnings. 
Hygiene equipment.
Organization.
While it all comes down to your personal preference, these features are universally desired and highly regarded by most trailer dwellers. Read on to see how they can make an off-road trailer better than others.
---
1. The Basics
What separates one trailer from another?
When you're first setting out to buy an off-road trailer, you'll want to get a good idea of the basic features first. For example, you'll need to make sure the towing capacity of your car matches the weight of the trailer per federal regulations. You may also have a personal preference for tires, durability, and materials.
Related Article:
Overlanding Vs. Boondocking: The Differences Explained
Safety Features
Safety isn't just important–it's a requirement that's thoroughly regulated. 
Even if you've bought a trailer, have the proper hitch equipment and a running vehicle, you may not be legally allowed to tow it. Depending on where you live and what type of vehicle you drive, there are typically regulations for how heavy your trailer can be. 
In addition, driving your trailer isn't as simple as driving a car. You'll need to adapt your driving style, ensure your vehicle has the proper suspension to carry the trailer correctly, and buy the appropriate hitch. If you're uncomfortable driving your trailer around, it's likely not the trailer for you. 
Tires
If you're looking for a good off-road trailer, the tires are everything.
What separates an off-road trailer from a regular one is its capability to handle rough terrain. You should find an off-road trailer with tires built for the type of terrain you're driving on. It should also handle a variety of temperatures if you plan on going cross-country. So, before purchasing an off-road trailer, check the tires. 
Durability 
Regardless of your camping plans, going off-road means rough terrain. Rocks, dirt, and sticks will be pelting your trailer. This issue may not matter for a storage trailer, but for something you'll be living in for a few days, you'll want to make sure a rock won't easily dent or chip away at your trailer. 
---
2. Power Source
Going camping in an off-road trailer already puts you at a glamorous advantage over those who camp in a tent. For one, you don't have to set up and tear down your living space each time you want to travel. For another, you can bring power to your home away from home!
Renogy 100 Watt 12 Volt Solar Panel Bundle Kit
The Renogy 100W Solar Power Starter Kit is perfect for new customers wanting to get a start in solar. The Starter Kit is great for off-grid applications, such as RVs, trailers, boats, sheds, and cabins.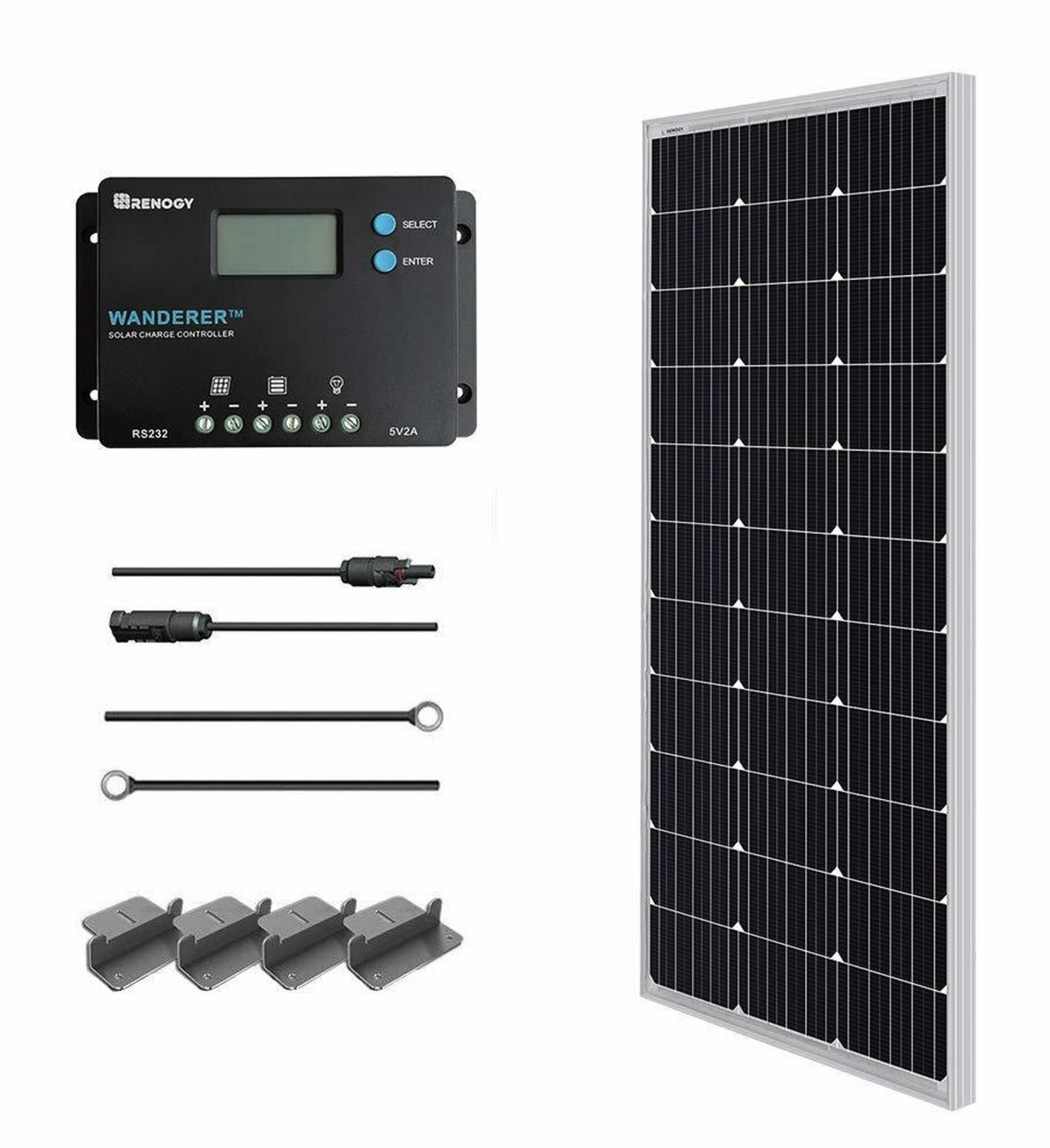 If you make a purchase, you support Hi-van.com by allowing me to earn an affiliate commission (no added cost for you).
You have a few options for upgrading your off-road trailer. Usually, generators are the way to go if you want to add power to your vehicle. Or, if you want to go sustainable, you can select the 100W 12V Monocrystalline Solar Starter Kit to have a reliable power energy source.
With electricity, you can do any number of fun upgrades. You can hang Christmas lights, or watch movies on a projector, or even play video games! The possibilities are endless.
---
3. Awnings
Any camping fanatic knows that the only thing predictable about weather is its unpredictability. For that reason, you may be interested in upgrading your trailer with an awning. 
Depending on where you're camping, you can either get a durable awning or one that will just give you some shade. Awnings can either attach directly to your off-road trailer, such as the DANCHEL OUTDOOR Car Side Awning (available on Amazon.com), or you can get one that pops up like a tent. Getting an awning will provide protection from the elements and make for an upgrade to your off-road trailer. 
---
4. Hygiene Equipment 
For some, the least attractive thing about camping is the lack of access to a daily hygiene routine. Luckily, that worry is a thing of the past.
It can be a pain to find campsites that offer clean, reliable showers. When you're off-roading with your trailer, you might not want to base your stops off of something as trivial as available bathrooms. Upgrading your trailer is an option that gives you freedom. You can easily upgrade your off-road trailer with hygiene equipment to give your home on wheels a more functional feel. 
If your trailer has a water hook-up, you may consider the Dura Faucet Shower Box Kit (available on Amazon.com), which has a ton of positive five-star reviews. It has a swiveling connector that allows you to turn the hose in all directions for more comfort. In addition, its paint is UV-protected, so you don't need to worry about discolorations in the sun.
Our Pick
Advanced Elements Summer Solar Shower
Camping shower; ideal for hiking, hunting, fishing, and other outdoor adventures.
3-gallon capacity; designed to heat water fast in the warm sun; has a water temperature gauge.
If you make a purchase, you support Hi-van.com by allowing me to earn an affiliate commission (no added cost for you).
If you don't have a hookup, there are still options available to you. Either the Advanced Elements Summer Solar Shower or the Vidalido Outdoor Shower Tent (available on Amazon.com). The last one works as both a shower and a restroom, giving you privacy and providing built-ins for a water pack and spout. 
---
5. Organization 
There's nothing more difficult when camping than keeping your stuff organized, especially if you're using a tent to camp. 
If you're using an off-road trailer, you've moved beyond the hassle of using a tent to camp. Among all their other benefits, off-road trailers can be easily suited up to help you organize all your camping gear. Imagine a world where all your utensils go in one place and snacks go in another!
To organize your off-road trailer, you can build things or buy products that fit well into the walls or under furniture. Sometimes, trailer beds have space built in underneath them that work great for storage. 
To take your organization up a notch, you could get something such as the mDesign Square Storage Bin (available on Amazon.com), which even comes with lids to secure your items on rough terrain. This YouTube video also gives tons of creative ideas for built-in storage that doesn't take a professional carpenter to make:
Here are some of my favorite van build tools:
Thank you for reading this article. I hope you found it helpful as you build your own campervan. Here are some tools that I use daily while living on the road that made my life easier. I hope you'll also find them as useful as me. These are affiliate links, so if you do decide to purchase any of them, I'll earn a commission.
But in all honesty, these are the exact tools that I use and recommend to everyone, even my closest friends and family.

Electricity: When I first started my van life journey, I was using the Renogy 200W RV Kit, and I've recently upgraded my setup to the Renogy 400W RV Kit. I'm fully autonomous regarding power now, thanks to this upgrade. I don't know why I didn't choose this option from the beginning.
Quick Fixes: Whenever I need to fix something inside my van, I use my multitool from Victorinox. It's compact and comes with a leather pouch that lets you store it wherever you want. Whenever I need more tools, I get my Cartmann toolset out.
Power tools: If you're converting a van, you'll need some serious tools for the building process. I can assure you, good power tools can make a huge difference. You'll save time and avoid a lot of frustration while having some professional-looking final results. I personally went big with the full combo set from Dewalt.
To see all of my most up-to-date recommendations about van build, check out this resource that I made for you!