A major challenge of living on the road is having a permanent residency, which is difficult if you have sold your property to live a van life. Residency isn't only about where you'll get your mail, but renewing a license, tags for your van, insurance, and taxes. South Dakota is a great state for van life residency, but why so?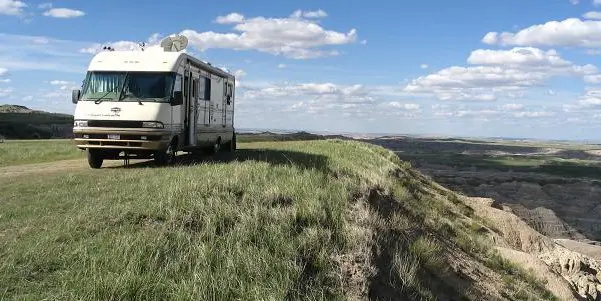 Residency in South Dakota is great for American van life because there are few requirements, the process is easy, and the state has no state income taxes. Because of South Dakota's reputation as a residency state for nomads, a mini-industry exists to make the process simple and easy. 
If you want to know why South Dakota is a magnet for VanLifers and how to go about making Mount Rushmore state your domicile, read on.
Taxes
These are the taxes you will not have to pay in South Dakota:
State income tax (including Social Security income)
Personal property tax
Taxes on pensions 
Sales taxes are also low (currently at 4.5%), but those apply to almost all sales, including groceries. Municipalities can impose an additional 1 to 2% tax. However, since you won't spend most of your time in the state, this will not significantly impact you.
Low Vehicle Fees
Excise tax for a vehicle is only 4%
Car insurance rates are among the lowest in the nation
License fees are low
No annual inspection requirements
Most Personal Mailbox Services will help you with the vehicle licensing process so that you can register your car over the phone or online.
You Only Have to Visit Once Every Five Years
To remain a resident, you only need to visit once every five years, but you will be tempted to visit more often. South Dakota is a beautiful state. Badlands National Park, Mount Rushmore, and the Black Hills are real gems. There are several dinosaur sites, as well as Mammoth Site in Hot Springs, an active dig site for Ice Age fossils.
Why You Need to Establish Residency Somewhere
Once you become a digital nomad and no longer have a fixed address, you will have difficulty doing some essential things. Sure, you will be able to pay your bills online, but without a physical address, you won't be able to:
Get a new driver's license
Buy insurance
Get a new bank account
Register to vote
Keep your van registration current
Pay taxes
Unless you establish residency in another state, you will be subject to the laws of the state you "live in" (i.e., the one on your driver's license). You will be subject to income taxes, annual car inspections, and insurance prices of a state you no longer live in. Instead of returning for a yearly inspection and paying state income taxes, why not establish residency in a state that makes it easy for full-time travelers?
Establishing residency in South Dakota is easy, which could be reason enough. South Dakota residency for nomads has become so popular that a mini-industry has sprung up for that purpose.  
What Does It Take to Establish Residency in Mount Rushmore State?
First, you will be required to fill out a Residency Affidavit. It is a simple form that asks you to attest if South Dakota is your state of residence, if you intend to return, and if you maintain a residence in another state. The form needs to be notarized or signed at a driver's license office.
Along with that, you must show proof that you stayed for at least one night in an RV Park, Campground, or motel. Finally, you need to prove that you have a personal mailbox (PMB) address (not a P.O. Box).
Traveler's Tip: The form reminds you that anyone with a South Dakota driver's license can be required to report for jury duty if called. However, the same is true for every state. If you are traveling, you can request and receive a deferral.
Get a Personal Mailbox Service Address
Because of South Dakota's reputation as a state where establishing residency is easy, businesses that cater to the R.V. and Van lifestyle are easy to find. Several of them serve as a one-stop-shop that can guide you through the entire process.
For example, Dakota Post's Virtual Mailbox Service has an annual plan that lets you forward mail to the service so you can access it from the web. Additional services include vehicle registration and residency services. If you wish to headquarter your business in South Dakota, their registered agent can help with that.
Another provider, Your Best Address, provides similar services, including secure shredding, unlimited mail per month, and physical mail storage, as well as tracking information for your mail. Residency assistance and vehicle registration are available. Members of the Family Motor Coach Association (FMCA) are eligible for discounts.
America's Mailbox also provides residency services aimed at R.V. and Van Campers. This service is owned by a full-time traveler who understands the unique needs of living on the road. Along with providing you the same services as other PMBs, America's Mailbox has an RV Park so that you can get your one-night stay taken care of—a true one-stop-shop.
Put getting a PMB as the first thing you do before you get to South Dakota. Download and complete the forms, have them notarized, and then mail them to your new "address." That way, you will have proof of address when you apply for a license.
Traveler's Tip: To get an address for a driver's license, you can also use a friend's or relative's address. The Consent for Use form needs to be notarized.  
Other Residency Requirements
To get a driver's license, you will need to bring some paperwork. This includes the following:
Proof of your residential address (affidavit, a receipt for a one-night stay, and your PMB address)
Proof of who you are (driver's license, valid passport, or birth certificate)
Social Security number (either a social security card, Medicare card, W-2, or 1099 number)
After you pass a vision test and surrender your driver's license, you will receive your South Dakota license. Congratulations—you are now a resident of South Dakota.
Traveler's Tip: A couple needs to have both names on their address and overnight stay receipt (as well as other identification) if both of you plan to get a South Dakota license.
Register Your Vehicle
Because registering vehicles is cheap and easy, plan to do this as well, but only after receiving your South Dakota license. Otherwise, you will have to wait for a year to prove residency.  
Is It Necessary to Establish Domicile in Another State?
No. Although establishing residency in South Dakota has many benefits, some nomads might opt for keeping with their current state. For example, if you plan to return to your home state at least annually, it might not be worth your time. Even though you only need to stay in South Dakota for one day, it might be too far of a voyage if you live in a state like Florida.
Secondly, if you start as a Vanlifer, you might want to give it some time to make sure this will be your lifestyle. South Dakota is an excellent choice for establishing residency because it is so easy.  
Finally, keep health insurance in mind. Medicare is accepted in any state, but your health insurance plan is based on the state where you live. Since health insurance guidelines are continually changing, the best we can do is advise you to do your research.
Bottom Line
Although you shouldn't rush into establishing residency in another state, if you decide that the nomad life is for you, South Dakota should be at the top of your list. Not only is it easy to become a resident, but the requirements for keeping it as your domicile are also as simple as visiting once every five years to renew your license. What could be easier than that?