'Van life' has become increasingly popular within the last few years. It is a free and adventurous lifestyle that becomes even more liberating when you bring along a motorcycle.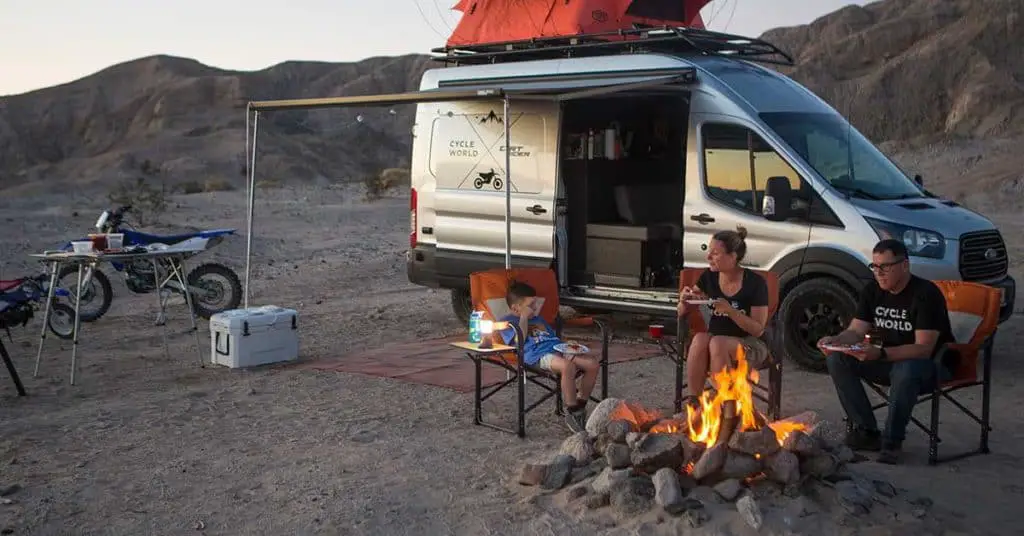 Make sure to have the right model of motorcycle for your traveling needs. The best models for van life include cruisers, sportbikes, and street legal dirt bikes. There are a few ways to transport your bike, including motorcycle hitches and trailers. You can also store the bike in the van with you. 
There are a number of things you need to know and prepare for when you want to take your motorcycle with you on/in your van. This article will describe in detail what motorcycle models are best for van life. It will also describe several ways that you can transport your bike. 
Why Bringing a Motorcycle Is Efficient
Many people choose the van life for its efficiency and sense of freedom and adventure. You can travel anywhere you want with all the gear you will ever need in your van. Although it is likely that where you park your van is not the final place you want to go to. There are only a select few places you can park for the night and camp, but many travelers would like to keep exploring the surrounding area of wherever you park. 
This is the reason why bringing a motorcycle is fantastic. With your extra set of wheels, you can easily explore more spots on the map after setting up camp. A lot of popular camping spots have dozens, even hundreds of trails and back-roads to explore that will often lead to beautiful, uninhabited sights.
Choose the Best Model for Your Needs
There are many different motorcycles models to choose from, but when you are living on the road in a confined space, it is best to match the right motorcycle with your traveling needs and wants. Let's look at a few options. 
Cruiser Motorcycles
Cruiser motorcycles are heavier than a lot of other bike models, which make them great for cruising on paved roads (hence the name). The vehicles stay stable when you experience cross-winds. Furthermore, they are suitable for long rides. Possible engine sizes can be anywhere from 150 to 1200cc. 
The cruiser models are for travelers intending to journey far from the van once it is parked. It is worth noting that if you want a bike meant for speed, this motorcycle will probably disappoint you. Cruiser motorcycles are meant to travel far for long periods of time. 
Sport Bike
This style of motorcycle is known for being lightweight. With a sportbike, you will be able to take sharp corners and lean the bike further than other models. This motorcycle is meant for agility and speed; it is one of the fastest models you can buy. It is worth mentioning that you should only invest in a sportbike if you are comfortable with your riding ability. This can be very dangerous for new learners. 
If you are an experienced motorcycle rider and want a fast bike to speed around in after parking your van, this bike will be a great option for you. (This model is also just meant for paved roads.) 
Street Legal Dirt Bike
While these are street legal, they are not ideal for driving on paved roads. Street legal dirt bikes are meant to be taken off-road on dirt trails and are most suited for that type of riding. 
If you are someone who will be traveling to many locations off the beaten path with your van, choosing a dirt bike will be a great option for you. There are many beautiful places that are known for their off-roading trials, and these bikes will make it easy to explore. This model is also the lightest weight bike of the three listed, so it will be relatively easy to transport. 
What Are the Different Ways of Storing Your Motorcycle in/on Your Van?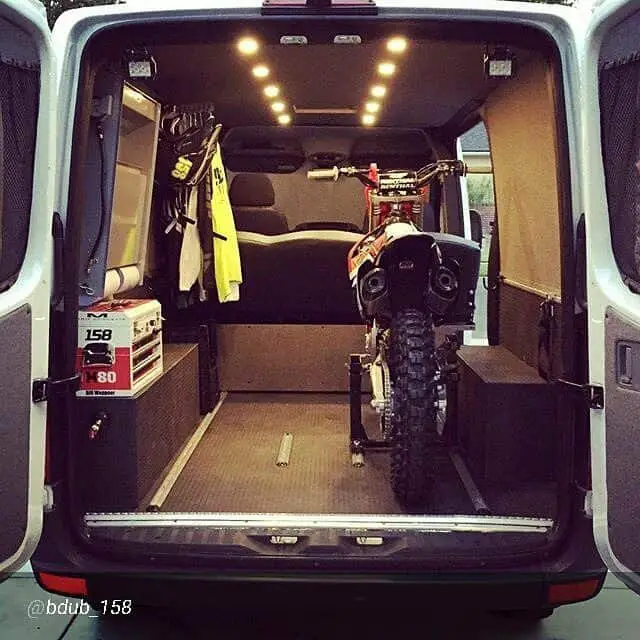 Motorcycles are big vehicles when you are trying to transport them, especially if you live in the same space you are transporting them with. There are a few ways you can transport a motorcycle with a van. 
Motorcycle Hitch Carrier
Motorcycle hitches are great for a few reasons. They are easy to maneuver and are inexpensive compared to trailers or haulers. Loading a motorcycle onto a hitch carrier is also safer than loading it onto a trailer. Furthermore, the hitch carriers do not require any registration to use and operate. 
Hitch carriers are usually made of two materials, including steel and aluminum. Both of these are corrosion-resistant. Steel hitches are usually for heavier motorcycles since they weigh more than aluminum. On the other hand, aluminum hitches are ideal for lightweight bikes. You can not put a heavier bike on an aluminum hitch. 
The TMS T-NS-MRC001 500-Pound Heavy Duty Motorcycle is an outstanding hitch carrier with over 200 5-star reviews and is only $149.95. Most hitches will cost anywhere from $100 to $300. 
Use a Trailer or a Motorcycle Hauler
Motorcycle trailers are great options if your van is capable of towing. When purchasing a trailer/hauler for your motorcycle, you will have to make sure it is suited for your motorcycle's weight. Some haulers are meant for dirt bikes, while others can haul cruisers. You will also need to register your trailer, so if that is something you don't want to deal with, go with the other options. 
Store Your Motorcycle in the Van With You
One last option is to store the motorcycle in the van with you. This will be a suitable option if you are only traveling with a maximum of two people. If you want to do this, you will have to design the layout of your van interior in a very specific way. Even though it's a solution that is mainly made for bicycles, if you really want to store your motorcycle inside your van you can do the same. Keep in mind that you will lose a ton of space.
You can either store the motorcycle beside your bed on the same level or have your bed on top of your bikes like in the picture. Before buying a motorcycle trailer or hitch, it is best to try and store the bike in the van. This will make it easier to keep an eye on it and will protect it from any bad weather you encounter. It will also be cheaper than purchasing a hitch or trailer. 
Know Where You Can Use Your Motorcycle
Something else you will need to know is where you can use your bikes. Especially if you are bringing a dirt bike, you will have to research the location you will be parking. Different countries and states have rules about where you can drive your dirt bike, so be up to speed on the rules to avoid surprises. 
Conclusion
Bringing a motorcycle along on your road trip is a great way of taking advantage of the location you are visiting. When you park your van for the day or weekend, you can unload your bike and explore places that you can't with your van. Furthermore, you should know what model of motorcycle is best for your needs. (Cruisers are best for long rides on the pavement while street legal dirt bikes are best for dirt trails.)
There are a few ways you can transport your bike. You can use a motorcycle hitch, a motorcycle trailer/hauler, or you can store the bike in the van with you. Storing your motorcycle in the van works best when you are traveling with a maximum of two people since it will take up a lot of space.