Hi-van is supported by its audience. When you purchase using our links, we may earn an affiliate commission (no added cost to you). Learn more
Pop up campers are known for their multipurpose functions, including serving as a tent, and they are very portable. Carolina Coach highlights that trailers offer the best of both worlds–the best of tent camping and RV camping. But sometimes, they just refuse to stay up after they are being set, perhaps because of a lousy lift system and a damaged roof.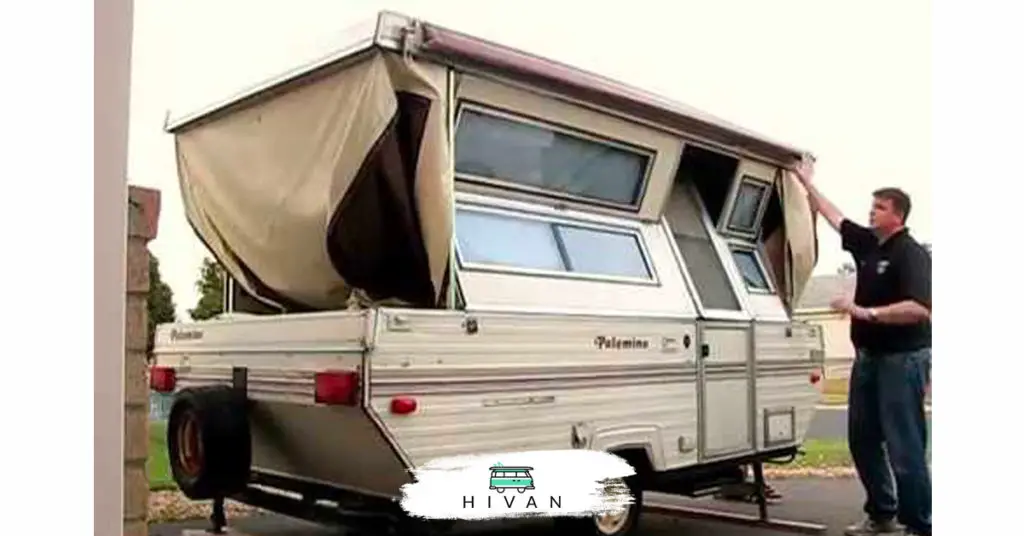 If your Pop Up Camper won't stay up, inspect the camper's lift system as it's the mechanism that allows you to raise the roof. You should also check the top from the inside and out for any damage. Other times, it might just be that you've raised the roof beyond its limit. 
In his article, you will also learn how to appropriately erect a pop up camper and how the lifting system works. So let's get started.
How To Appropriately Erect a Pop Up Camper
Setting up a pop-up camper depends on the type you own. Most people use sophisticated methods to quickly erect their campers, while others require more manual labor. But basically, there are three ideal steps that are meant to be followed.
1. Level Your Camper
This is a crucial step. When you set up your pop up camper, you should make sure that the environment will support it on level ground. Remove your camper from your vehicle's hitch after securing it on level ground.
Morten Storgaard advises that you may need the assistance of a larger-scale level to ensure that your computer is level to the ground.
If not, take a step back and examine the setup to look for any irregularities. Once you're satisfied with the positioning, you should add a stabilizer to the back. The stabilizer will be used to slowly and correctly align your camper with the ground.
Note: This is the first and a determining step in the setup process, so you must not skip it. There are many reasons why your camper needs to be leveled as possible. The most important reason is comfort. Sleeping, eating, and cooking are a lot easier when on level ground and will make your van life experience a lot better.
2. Place Jacks for Support
After you have leveled and stabilized your camper, you can now begin to place the jacks under the support points of your camper.
The jacks are situated under the camper, and there's no specific number of jacks that you need, as this differs based on the size of the camper. At this stage, all you have to do is to lock them into position fully.
The jacks must be fixed appropriately as safety is an essential part of the setting up process.
Once the jacks are correctly inserted, you can start to open your camper. Begin by unhooking the latches that keep your camper's top in place. All the jacks and lifting devices must be correctly put in place to ensure that the pop-up camper stays up.
3. Set Interiors
Once the top of your camper is fully opened and put in place, you can start setting up the interior of your camper. The most important thing that must be put in place first is the door and the bed.
The bed provides more than just a comfy place to sleep, as it also serves as a support system for your camper. The bed and the camper door help the camper top stay put.
Check to see if the door opens and closes smoothly. If the door doesn't latch properly, you may have a leveling problem, which means that the door frame doesn't meet up. This is why the first step of leveling your camper is very crucial.
Find this content useful 🙂 ?
Subscribe to our Newsletter and get a free Solar Electric Diagram + shopping list.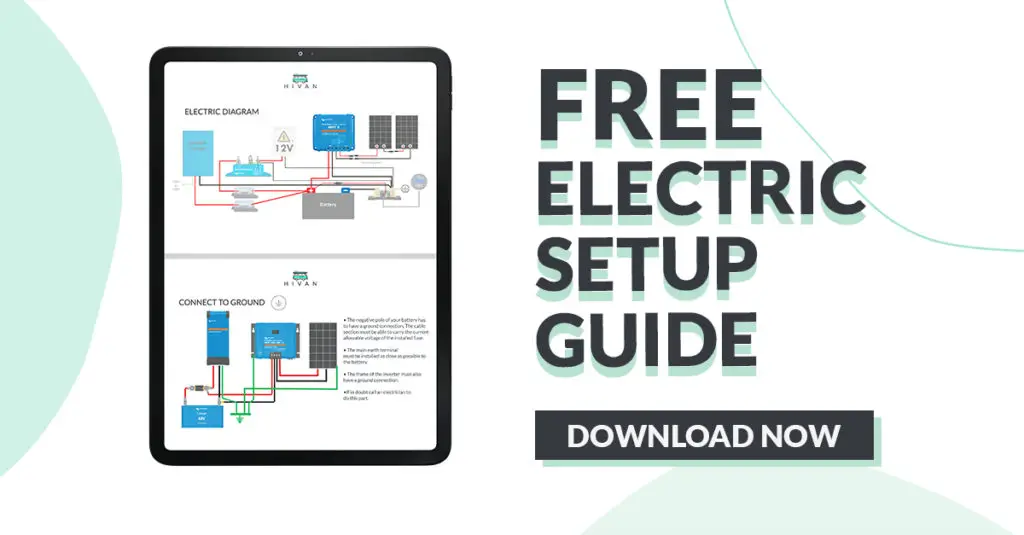 How Does the Lifting System Work?
The most significant aspect of your pop-up camper's mechanism is the lift system. Pinterest showcases the best types of pop-up campers with a sound lifting system. You should handle the system procedure with caution, and the more you know how it works, the better.
Pop-up advice explains the two types of camper lift systems, which include the hand-crank lift and the much more convenient powered lift systems.
Let's look closer at how they work.
The hand-crank lift system: You'll have to continually turn a handle to raise the roof of your camper until it is at just the right level that you want.  The concept behind this unique system is that you can unlatch and lift your camper with minimal effort, which makes it easier for single travelers to do the task as it's a one-person job.
A powered lift system: You'll have to use a vehicle battery power to open and close the roof.  With a powered lift system, you'll simply press a button or turn a switch to open or close the roof. You'll be able to apply the correct amount of pressure to unhitch your camper with the help of telescope-style poles.
A powered lift system means that there's no need to exhaust yourself by overworking your arms. There's no need to crank the lift system handle. Plus, you won't wake up with some sore muscles the next day.
However, powered lift systems are more likely to fail than the hand-crank system because they have more electrical components that eventually break down. That's why they usually have a hand-crank backup system.
Regardless of the type of pop-up camper you have, the concept of unfolding your camper is the same. This is designed to reduce users' mistakes and ensure that your camper and its priceless lift system remain in good shape.
Conclusion
Pop-up campers are built to act as a covering, but sometimes they just refuse to stay up. Ryanc advises that your first trip should be simple and close to home as you can call for immediate help.
But if you follow the suggestions in this article, you'll know what to do when it refuses to stay up, which include:
Check the lift system to see if you need to fix the faulty camper.
Ensure that you lay the camper on a level surface.
Rent or buy a powered lift system camper as it comes with a hand-crank backup system.