Hi-van is supported by its audience. When you purchase through links on my site, I may earn an affiliate commission. Learn more
When a storm hits and you can't find shelter outside your van, you need to prepare for the worst. Fortunately for you, there are some methods to protect you from the weather inside of your van.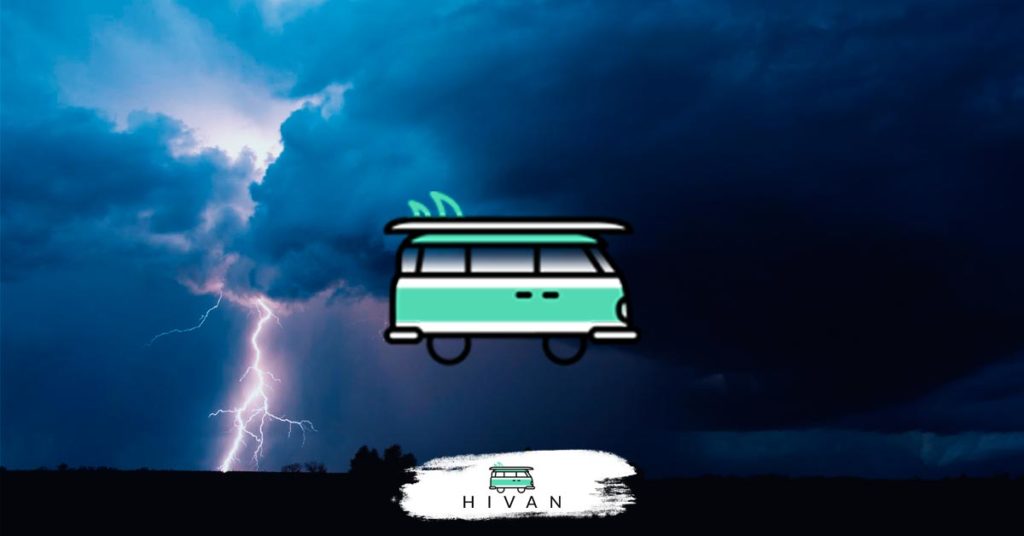 Here's how you can prepare for and deal with storms during van life:
Determine what kind of storm is heading in your direction.
Find reliable equipment for the van.
Map out locations to park the van.
Set up shelter. 
Prepare for the worst-case scenario.
While it may seem simple and easy to fight off storms while living in a van, it could be much more complicated than you think. Read on to learn how to deal with storms while living in your van.
---
1. Determine What Kind of Storm Is Heading in Your Direction
Knowing in advance what kind of storm is heading your way can give you a head start in preparing and assembling any equipment you may need. Even if there's no storm that day, looking into future forecasts can help you prepare and plan. 
Many people (myself included) underestimate when there's only a light shower of rain or a tiny sprinkle of snow. You may think, "Oh, this isn't bad. It may go away soon."
Having this mentality, especially when you live in your van, can leave you less time to prepare or find shelter. Tuning in to weather forecasts will help prepare and give you general knowledge of what's to come ahead. 
Devices you can use to determine the weather are:
Cell phones
Radios
Television
---
2. Find Reliable Equipment for the Van
You'd want the best of the best when it comes to equipment for your van, especially if it would help you during a storm. However, you may not want to break the bank in doing so.
Some reliable and necessary equipment van lifers would need include the following:
Radios
Portable stove top
Solar power car battery
Solar power bank
Bedding
These are only a few things van lifers need to combat storms. Below are some products (all available on Amazon.com) that I strongly recommend for van lifers for any situation.
Cobra HH50WXST Hand Held CB Radio
Noaa weather channels - be the first to know of incoming hazards or changing weather with instant access to NOAA weather channels 24 hours a day.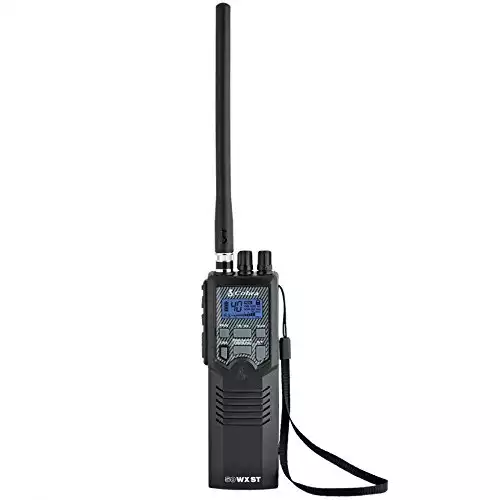 If you make a purchase, you support Hi-van.com by allowing me to earn an affiliate commission (no added cost for you).

Cobra HH50WXST 2-Way Handheld CB Radio: This handheld radio gives you access to NOAA weather channels 24/7 and will notify you immediately when there's an upcoming hazard in the area. It also picks up signals up to four miles (6.44 km) and has rechargeable batteries and a rechargeable jack.
Tyler 14" Portable TV LCD Monitor: This portable TV monitor is a great way to watch TV on the go! It has a rechargeable battery with a car charger, is compatible with Apple TV, Amazon Firestick, and Chromecast, and has an antenna with a 15-mile (24.14-km) range.
More info: Check how to fix and secure your TV in your camper here.
If you make a purchase, you support Hi-van.com by allowing me to earn an affiliate commission (no added cost for you).

Coleman Gas Camping Stove: This stove top is an excellent cooktop for van lifers and features two burners for dual cooking, wind-blocking panels to shield most pots/skillets from the weather, and chrome-plated grates for easier cleaning.
Get your on-the-go batteries fully charged: Get yourself backed up by a reliable source of energy. You don't want to run out of electricity in the middle of a storm. Therefore, it is important to fully charge your batteries when the forecast is bad. You can either plug your solar system to charge your battery on the grid or you can go to a coffee shop or any other places that provide free access to a plug to recharge a portable battery bank.
Damipow Solar Power Bank: Having a portable wireless charger is better than struggling to find a port or outlet to plug in your devices. Plus, this charger is solar-powered, works with phones and other compatible devices, doubles as a flashlight, and is waterproof.
These products have terrific reviews from customers, are cost-efficient for their uses, and are perfect for any predicament you may encounter while fighting off a storm in your van.
---
3. Map Out Locations To Park the Van
Finding an area that'll help protect you and your van from the storm is crucial. Planning and looking at a map (whether on a physical map or your phone) is a great way to figure out where you'll go for shelter. 
Before parking anywhere, you need to know what shelter conditions you'd need to deal with the storm.
Two shelters that are best for van life during a storm and can battle extreme wind, snow, and thunderstorms are parking garages and open parking lots. 
Parking Garages
One user from the subreddit r/vandwellers says, "Parking garages are a great shelter if you fit and worth the fee… I've been doing this for the major snowstorms all winter." This means this van lifer has been doing this for a long time and has found parking garages are the best shelter for extreme snowstorms. 
Parking inside a parking garage will also shield you from lightning during thunderstorms. As long as you aren't in an area with overhead coverage, you'll be fine. 
Open Parking Lots
While this may not seem like the best idea, the same user from above also has said open parking lots are their go-to when a tropical storm hits their area. Why was this a good idea? 
Parking your van in an open parking lot during extreme storms like tropical storms allows you to be far away from any flying debris. 
Think about it; there's nothing near you in an open parking lot. No trees, no lamp posts, nothing but possibly other cars. From a 1995 US study, "It would take perpendicular wind speeds of 101 mph to topple a 5m camper van." 
You wouldn't have to worry about your van toppling over in a windstorm unless the wind speed is over 110 mph (162.54kph) or if your van is less than 5 m (16.4ft). If this storm includes thunder and lightning, flee the area. 
---
4. Set Up Shelter
Sometimes you may not be near a parking garage or empty parking lot. In this instance, you'd have to set up your shelter to combat the weather. 
If you're experiencing a thunderstorm, the best way to take shelter is outside your van in an enclosed space. While you may think this is the opposite of the safest place, read below what the NWS has to say about lightning and vehicles. 
According to the National Weather Service, "Although every lightning strike is different, damage to the antenna, electrical system, rear windshield, and tires is common. The heat from a lightning strike is sufficient to melt the antenna of a vehicle partially and can cause what seems like a small explosion of sparks as tiny fragments of metal melt and burn."
If you're unfortunate enough to be stuck in a snowstorm, the best thing for you to do is park and start a fire. Before you set anything up, you'll need to clear an area for your gear and then set a fire. 
Owning an awning will benefit you and your van immensely. Take a look at this video from Living The Van Life on YouTube:
The awning he has protects his fire and provides him extra space for his comfort. If you like the awning, you can get this VEVOR RV Awning from Amazon.com that goes up to 20 ft (6.09 m) and comes with everything you need to install it. 
---
5. Prepare for the Worst-Case Scenario
If you end up in a tornado warning, a blizzard with no end in sight, or even flash floods, the best thing is be prepared. If you can evacuate the area, then do so. 
If you end up stuck for an unknown amount of time, stocking up on food and other items is necessary. You cannot live without food or water, so keeping an emergency supply is vital. 
Down below are things to stock up on in case of an emergency:
Non-perishable foods
Canned goods
Bottled water
Blankets
First-aid kit
Propane canisters
Batteries
Radio
Fire extinguisher 
Entertainment items
I recommend watching videos from Living the Van Life and reading for more tips on surviving storms while living in your van.
---
Final Thoughts
Now you know how to prepare for storms while you're living in your van. The biggest thing you can do before an emergency hits is to know about it in advance. Then you can prepare for evacuation or sit through it.
Find this content useful 🙂 ?
Subscribe to our Newsletter and get a free electric diagram + shopping list.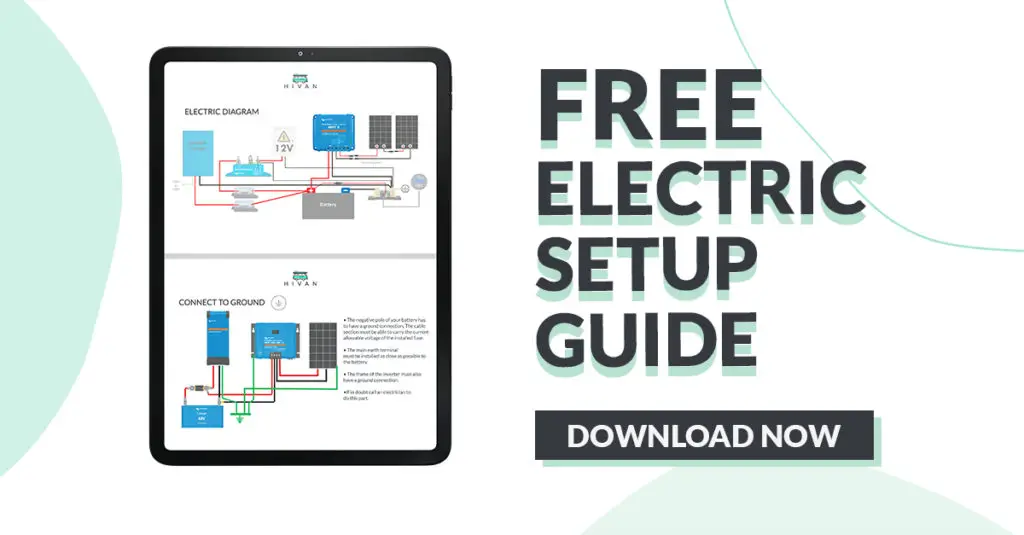 Here are some of my favorite van life essentials:
Thank you for reading this article. I hope you found it helpful as you're experiencing your life on the road. Here are some tools and gadgets I use on a daily basis that made my van life a lot easier. I hope you'll also find them as useful as me. These are affiliate links, so if you do decide to purchase any of them, I'll earn a commission.
But in all honesty, these are the exact tools that I use and recommend to everyone, even my closest friends and family.
Kitchen: I'm cooking a lot and I've finally found my perfect cookware set: The Magma Cookware 10 Pcs that you can nests and store in less than 1/2 cubic foot of cabinet space is really handy. Since I'm also spending a lot of time working at my desk, I use my favorite coffee mug from Yeti. For more, check my list of kitchen accessories I can't live without.
Outdoor: Even though I'm spending a lot of time in my van working, I do enjoy getting out and explore my ever-changing neighborhood. This sometimes requires me to take my portable solar battery with me. And when I just want to chill outside and take a nap, I use the Winner Outfitters Hammock.
Clean/Tidy: Space is precious and therefore I used these heavy-duty storage bins from Homs to store my material. They're robust and you can stack them together. Regarding showering, I like to use this portable solar shower from Advanced Elements when it's hot outside.
To see all of my most up-to-date recommendations about van life, check out this resource that I made for you!