You're a big fan of road trips and spend a lot of time in your RV, but as much as you like the adventure, you don't want to miss your favorite shows and sports events while on the road. Your kiddos don't sit still if not entertained, and your teenagers won't join the trip if the TV doesn't work. But can you watch TV in an RV while driving?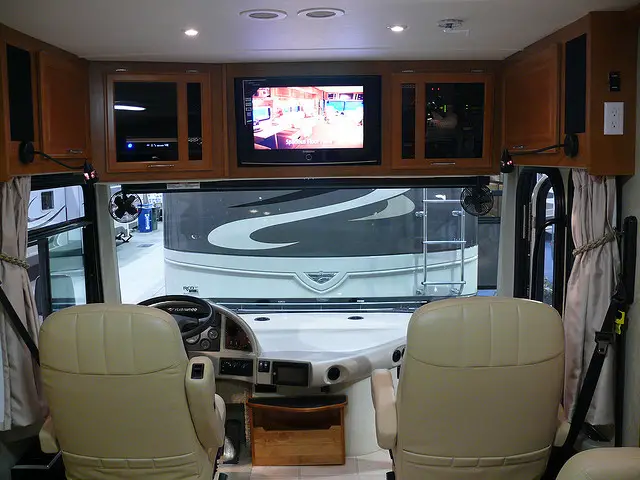 You can't watch TV in an RV while driving due to safety considerations, but a few circumvention methods can help your passengers do so. Buy an inverter or solar panel to supply energy and connect to the internet, dish, or antenna to access the channels. TV cables are also an option when parking.
In the rest of this article, I'll talk about ways to turn on the TV while the RV engine is working. I'll also show you four simple ways to access live channels while on the road instead of watching your own playlist.
Is It Legal To Watch TV While Driving an RV?
It is illegal to watch TV while driving an RV and other vehicles. Almost all countries have established laws for this. Many countries also forbid in-car monitors if the screen can be seen by the driver even peripherally. 
That's why the TVs in RVs usually don't work while the engine is running. It's an attempt to force the driver to focus on the road and prevent distractions.
How To Get the TV on To Entertain Other Passengers While Driving
RVs mostly come with a flat-screen, allowing passengers to watch movies while on the road. The TV usually connects to the vehicle's speaker system to provide superior sound on the go. The problem is that the TV doesn't work while the engine is running. 
You can use a generator or an inverter to convert the 12V current from the batteries to 110V electricity to resolve the issue. This current can run almost everything in your car, including the TV. Remember to place the inverter near the batteries for better efficiency.  
Many people use solar panels to power the TV in their cars. By installing solar panels, you're using renewable energy, which is eco-friendly and has low maintenance costs. 
However, solar power is weather-dependent. So, if you're traveling in winter or maybe to areas that don't get a lot of sunlight, they may be inefficient. 
4 Ways To Watch Live TV While on the Road
The most challenging part about watching TV on the road is that you can't pick up live TV broadcasts. So, you might need to create your own playlist before the trip. However, if you prefer to watch live TV, you have four options:
1. Use an Antenna 
The simplest way to access over-the-air channels is using an antenna. It's easy to use and takes you only ten minutes to scan for channels. Most new RVs come equipped with a built-in antenna, but if not, you can buy one. 
I recommend that you use the HDTV Antenna Amplified Digital Outdoor Antenna on Amazon.com. It gives you omnidirectional support, so you can get top-notch audio and video even if you change course while driving. What's more, the device is straightforward to install and just takes four screws to fix it on your RV's roof. 
The number of channels and the quality greatly depend on the area, but you'll usually be able to access 20 to 50 different channels.
2. Subscribe to a Streaming Service
The most common way to watch TV in an RV is via streaming TV. It doesn't cost much to install and is super easy to use. All you need is high-speed internet access. 
Cellular internet is probably your best way to get high-speed internet in your RV, but satellite internet is also an option. 
You may consider Netgear's Nighthawk M1 Mobile Router on Amazon.com. It gives you up to 1Gbps internet and lets you connect up to 20 devices, which is more than enough for all your passengers and everything in your RV. It works best with AT&T sim cards but is compatible with all sims.
Note that you need a subscription with a streaming service provider like Netflix and a TV that supports Wi-Fi to stream content in your RV. HDMI is also an option, but dealing with the cables quickly becomes a hassle. 
3. Get a Satellite Service
Satellites allow you to watch TV more reliably than other TV options. Dish and DirectTV are the two satellite choices in the US. Both companies have almost identical offerings and prices, but DirectTV gives you more sports package options. 
ٌWhat makes Dish compelling for users is the pay-as-you-go option. Although this is the most expensive TV option in an RV. It lets you turn off services any time you aren't on a trip and saves you some money.
Another thing to consider is whether you want a mounted or portable satellite dish. While the former is more secure against harsh weather elements, the latter lets you drive more smoothly on jungle roads since you can remove it on demand.
4. Get Cable TV
Most RV parks offer free or paid cable TV options. The only thing you need is a pre-installed cable input on your RV, and then you can simply connect the park's box to your TV. 
Cable TVs let you access live cable channels and watch local news programs. However, remember that the option isn't available in all RV campgrounds, so if having TV access is important to you, check with the campground before going there.  
Find this content useful 🙂 ?
Subscribe to our Newsletter and get a free electric diagram + shopping list.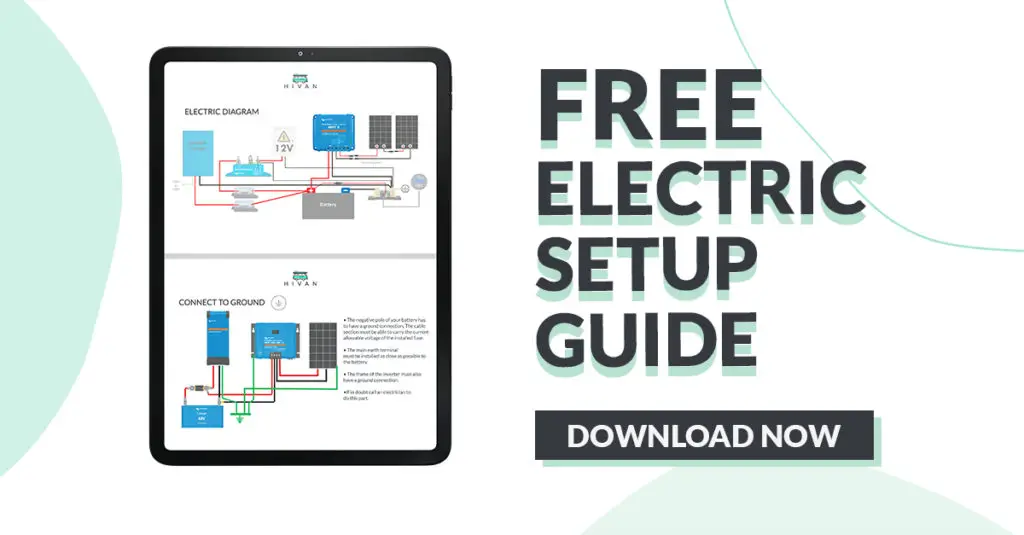 Final Thoughts
Watching TV is illegal when you're driving an RV, but what if other passengers want to watch TV while you're on the road?
If the TV in your RV doesn't turn on when the engine is running, try using an inverter or a solar panel to power it, but don't place the screen in the driver's view to avoid distractions. 
Watching live TV might be the most challenging part for you as an RV'er. But today, several options are available like antennas, satellite, streaming, or cable TVs. You can use any of them based on your RV equipment. Happy watching!