Hi-van is supported by its audience. When you purchase through links on my site, I may earn an affiliate commission. Learn more
It's often hard to know if you're allowed to camp or park your van in outdoor spaces. Laws vary based on where you are, and even if you're familiar with the county or state laws that you're in, it can be difficult to know who owns the land where you're trying to camp. Beachfront property can transition from publicly to privately-owned land without you even realizing it.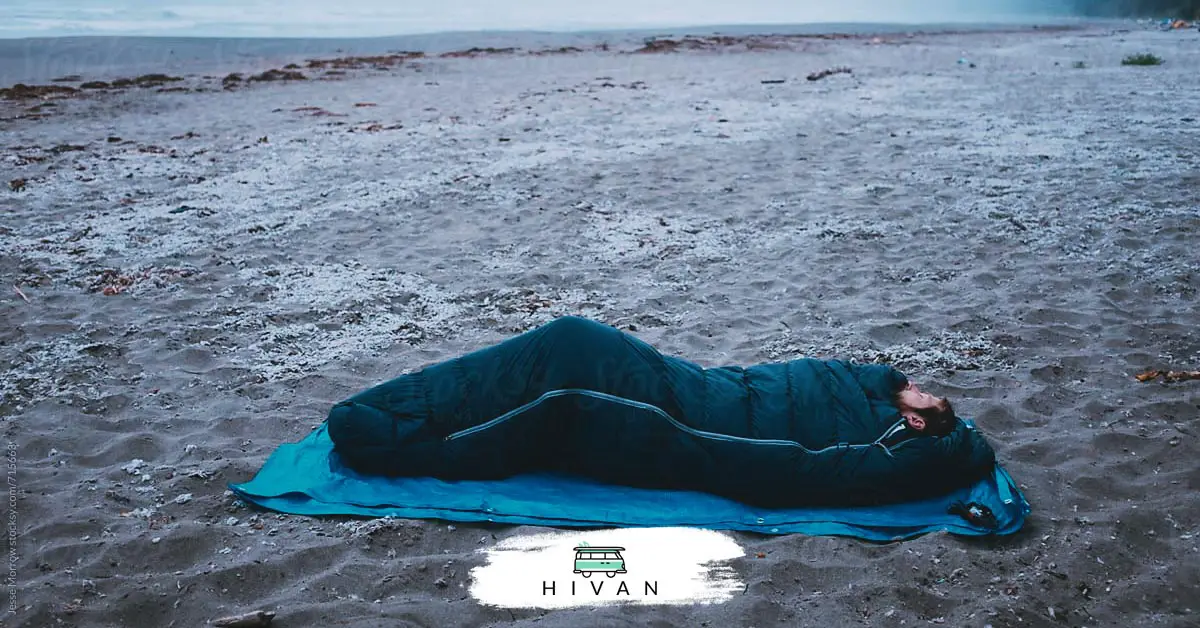 It's unlikely that you will get arrested for sleeping on the beach, but it is illegal to camp on most beaches in the United States. To avoid any legal issues, it is safest to assume that you are not allowed to sleep on the beach unless expressly noted otherwise.   
In the following article, I will lay out examples of places where you can sleep on the beach and what to look for if you're not sure. 
---
When Sleeping on the Beach Can Get You Arrested
Both tent and RV camping can result in legal action if you're on a beach that is closed to the public overnight. 
A lot of beachfront is either privately owned or is publicly owned property that has specific rules for public use. 
Because of this, most beaches have certain hours of operation where they are open to the public. 
There is usually signage denoting when the beaches are open, and if found there outside the legal timeframe, you run the risk of getting into trouble.
The Consequences of Being Caught Sleeping on the Beach  
So what can happen if you do get caught sleeping on a beach at night? It depends. 
Most states view sleeping on the beach as a minor infraction, assuming it is not accompanied by any other illegal activities. 
As such, you are likely to be asked to leave, and in some cases, may be charged a fine. 
Being technically illegal, however, you do run the risk of being arrested if the situation escalates. Remember that it is at the discretion of the officer who catches you. 
---
How To Find Out if Sleeping on the Beach Is Allowed  
Most beaches have very clear signage letting you know whether or not you're allowed to camp there. Look in the parking lot and entrance of the beach for information regarding hours. 
To better understand the rules of the beach you're at, look for signs with messages such as: 
No motor vehicles allowed in the parking lot between 12 AM and 5 AM 
Beach/park hours 7 AM to 8 PM 
Private property 
No trespassing 
No camping 
Camping prohibited
No camping or overnight parking 
Beach closed 
If you know ahead of time which beach you'd like to camp at, looking online is always a good way of familiarizing yourself with its rules. 
Most beaches are publicly owned land and will have a page on a government park's website that lays out specific rules and regulations. 
---
There Are Beaches Where Camping Is Legal  
While it is best practice to assume that you can't just park and camp at any beach you may find, don't lose heart; there are absolutely beaches that you're allowed to stay at overnight. 
Many national and state parks allow camping on beaches in designated areas. 
Typically, you will need a reservation for this type of activity, which can be easily made by calling the relevant parks department or logging on to their website.  
Keep in mind that tent camping and RV/van camping often require different permits and have different camping spaces available, so make sure to be specific when making your reservation. 
---
Ways To Find Beaches That You Are Legally Allowed To Camp On   
While it can be frustrating to search around for a beach that does allow overnight camping, the likelihood is that if you're on the coast, you're probably within a few hours of one. 
National and state parks are a great option for legal beach camping. Depending on where you are, there may also be county parks that allow sleeping on the beach. 
National Parks
National parks offer a lot when it comes to camping. Designed to fit travelers on a budget, national parks are a great option for solo, couple, or family getaways. 
The National Parks Service has extensive information on camping options for each park on its website. 
Most parks require permits for staying overnight and offer both tent and van/RV camping. Ticket prices typically cost between $20-$50/night, but prices vary based on site type, season, location, and more. 
Parks such as Olympics National Park and Channel Islands National Park both offer camping on certain beaches within the parks. 
Related Article: 
Can You Bring Firewood Into a State Park?
State Parks
State parks are another great option for sleeping on the beach. 
While many beaches in state parks don't allow camping, there is usually ample information available for what is and is not allowed. 
Sonoma Coast State Park in California, for example, offers both tent and RV camping at multiple beaches in the park, while Anclote Key Preserve State Park in Florida allows tent camping on certain parts of the beach for free. 
It is best to do research before you arrive, so you're not scrambling to find somewhere to sleep in the middle of the night. Check city, state, and national park websites to see if there is any camping allowed at your destination. 
Whenever possible, making a reservation ahead of time is recommended, especially during the busy summer months. Always double-check the rules and requirements when booking, so you're sure it will work for you. 
---
Final Thoughts
While I strongly advise against sleeping on any beach you find yourself on, remember that there are beaches that allow camping. 
If you're having a hard time finding one, consider broadening your search to campsites that may not be directly on the beach but are either adjacent to or overlooking one. 
If you plan on tent camping, this option may be preferable to avoid getting sand in all of your gear. 
If you're still struggling to find information, a simple Google search for "your beach+camping" will usually point you in the right direction. 
Safe travels!
Find this content useful 🙂 ?
Subscribe to our Newsletter and get a free electric diagram + shopping list.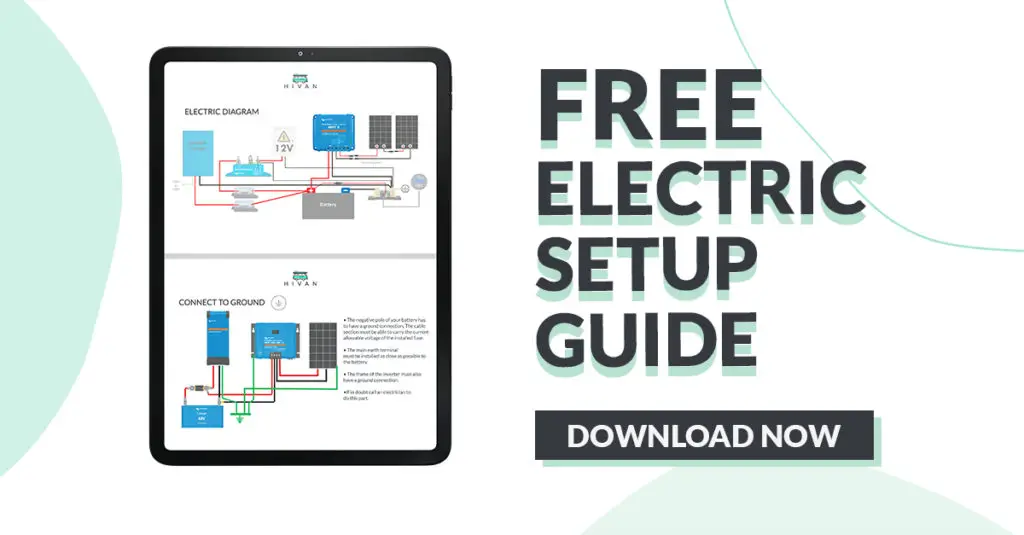 Here are some of my favorite van life essentials:
Thank you for reading this article. I hope you found it helpful as you're experiencing your life on the road. Here are some tools and gadgets I use on a daily basis that made my van life a lot easier. I hope you'll also find them as useful as me. These are affiliate links, so if you do decide to purchase any of them, I'll earn a commission.
But in all honesty, these are the exact tools that I use and recommend to everyone, even my closest friends and family.
Kitchen: I'm cooking a lot and I've finally found my perfect cookware set: The Magma Cookware 10 Pcs that you can nests and store in less than 1/2 cubic foot of cabinet space is really handy. Since I'm also spending a lot of time working at my desk, I use my favorite coffee mug from Yeti. For more, check my list of kitchen accessories I can't live without.
Outdoor: Even though I'm spending a lot of time in my van working, I do enjoy getting out and explore my ever-changing neighborhood. This sometimes requires me to take my portable solar battery with me. And when I just want to chill outside and take a nap, I use the Winner Outfitters Hammock.
Clean/Tidy: Space is precious and therefore I used these heavy-duty storage bins from Homs to store my material. They're robust and you can stack them together. Regarding showering, I like to use this portable solar shower from Advanced Elements when it's hot outside.
To see all of my most up-to-date recommendations about van life, check out this resource that I made for you!