Hi-van is supported by its audience. When you purchase using our links, we may earn an affiliate commission (no added cost to you). Learn more
Camping showers let you maintain your hygiene while on the trail, but they're not always the easiest to hang. Some of them are pressurized, while others are gravity-fed. If you choose a gravity-fed camping shower, you have to find the right location to hang it, so you can shower without holding the bag.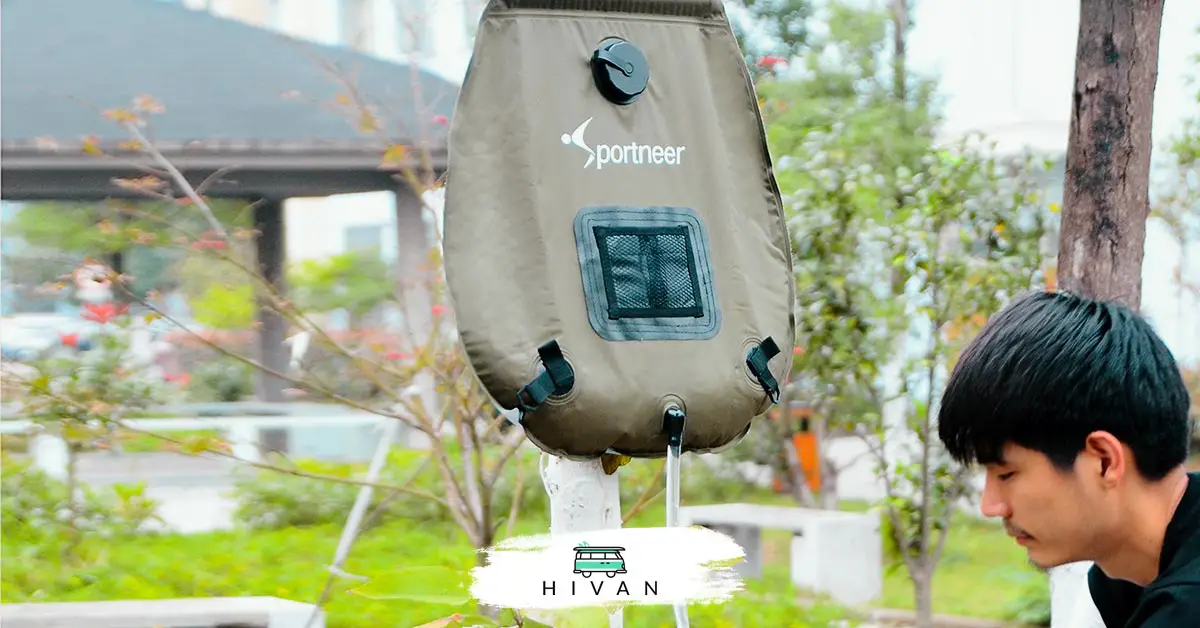 To easily hang a camp shower, follow these instructions:
Use a privacy tent
Hang the shower with carabiners, ropes, shoelaces, and so on
Tie the camp shower to a tree
Attach the shower to a vehicle
Switch to a pressurized shower system
In this post, we'll show you everything you need to know about hanging a camp shower, including a handful of locations, tricks to make it stay without sliding, and a few product reviews to look through. Enjoy!
---
Use a Privacy Tent to Hang a Camp Shower
Privacy tents are perfect for showers because they don't let anyone see what you're doing inside. Using soap and shampoo can cause severe damage to the local wildlife if you wash them off in a natural water source, even if they're biodegradable. Fortunately, privacy tents are the next best alternative.
Good Camping Tents highly suggest using a privacy tent because a lot of them have open tops or hanging contraptions. You can hang the camp shower from the structure or a tree, keeping your hands free. You can scrub, bathe, and rinse without worrying about the shower falling or failing to pour enough water.
WolfWise Pop-up Shower Tent Green
Spacious Space: The tent is 47.2" L x 47.2" W x 74.8" H providing a spacious interior shelter that comfortably fits a tall man without touching your head, which is much higher and roomier than our old version.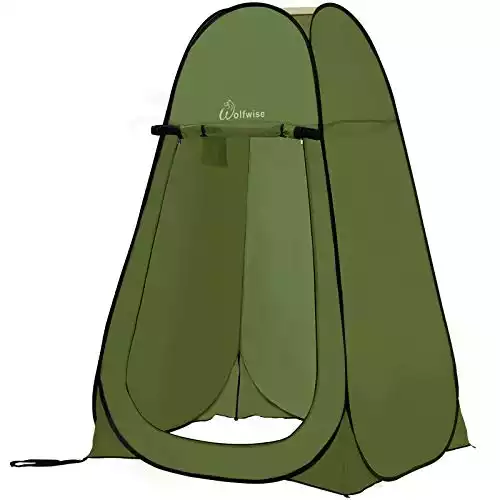 If you make a purchase, you support Hi-van.com by allowing us to earn an affiliate commission (no added cost for you).
If you're in the market for a privacy tent to shower in, try the WolfWise Pop-Up Shower Tent. It folds into a small, lightweight circle, making it ultra-portable and easy to set up. It's dark enough to prevent people from seeing you or a silhouette. You can hang your camp shower through the open outer windows.
Another reason so many people enjoy privacy tents is they don't have bottoms. The water falls right onto the ground, leaving you without anything to clean.
---
Choose Carabiners, Shoe Laces, or Thin Ropes
These three options all have their pros and cons, so let's break them down below.
Carabiners are great because they hold your camp shower without swaying or breaking. They can hold quite a bit of weight, so there's no worrying about them dropping the shower bag when it's full of eight or more pounds of water. However, carabiners don't provide much vertical movement, so you'll need an extra attachment.
Shoelaces are ideal by themselves or when combined with carabiners. Tie a shoelace through the camp shower's handle and string it up to anything nearby. It's best to use multiple shoelaces to add to their capacity. The primary issue with using shoelaces is they tend to loosen after long showers.
Ropes are also pairable with carabiners. Unlike shoelaces, they're slightly thicker and don't sway as much. Furthermore, ropes can be tied to rough surfaces without breaking. The problem with tying a rope to a camp shower is that some of them are too thick for the handles, while others are a bit heavy for backpacking.
The best solution is to use all three of them tied to various nearby surfaces. If you're curious about what you can hang your camp shower from, try one of the two following suggestions in the subheadings below.
---
Hang the Shower From a Tree
Beyond the Tent shows that hanging your camp shower from a tree is often the easiest solution for most campers. If there's a branch that's taller than you, you're good to go. All you have to do is tie a rope or shoelace around the branch and through your camp shower's handle. If there's no handle, you can mount a D-ring on the shower and tie the rope through it.
If you follow this method, ensure the rope or shoelace is tied snugly. The last thing you want is for it to fall off the branch and onto your head. Consider learning a few knot tying techniques to create a sliding knot. This trick lets you move the shower up and down while naturally raising it as the water drains out of the bag.
Note: Some campgrounds don't let people tie showers to trees for two reasons:

They indicate that the person is using shampoo, soap, or conditioner, which can cause damage to the local environment.
Heavy camp showers can put a lot of stress on weak tree limbs, causing them to break after a few showers.
---
Attach a Portable Shower to a Vehicle
Feel free to attach a gravity-fed shower bag to the top of your car, provided it's taller than you. They can tie to roof racks, ladders on the back of motorhomes, and more. You don't need a tree, boulder, or anything else to shower if you have a vehicle with you.
Our Pick
Advanced Elements Summer Solar Shower
Camping shower; ideal for hiking, hunting, fishing, and other outdoor adventures.
3-gallon capacity; designed to heat water fast in the warm sun; has a water temperature gauge.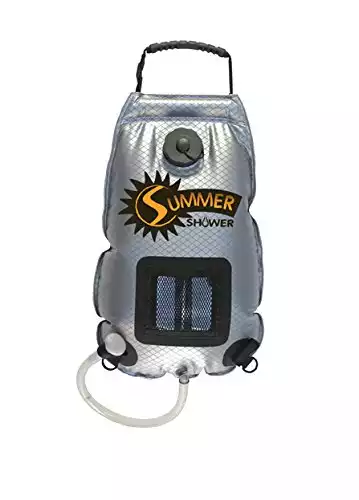 If you make a purchase, you support Hi-van.com by allowing us to earn an affiliate commission (no added cost for you).
The Advanced Elements Summer Solar Shower comes with built-in handles, which means you don't need to lug the extra weight of ropes, shoelaces, and carabiners. Sling the handles around a roof rack or tree branch for an instant shower wherever you go. These shower bags hold 10 gallons of water and naturally heat up from the sunlight.
Some people install long PVC pipes to the top of their vehicles and fill them with water. Cap off the end and install a spigot to open and close it. While it's not a shower bag, this type of shower can either be pressurized or gravity-fed.
Related Article: Showering on the Road - Full Guide
---
Try a Pressurized Shower System
CHAPIN 20000 1 Gallon
1-Gallon funnel-top, translucent tank for easy filling and cleaning
Compatible with common fertilizers, weed killers and pesticides
In-tank filter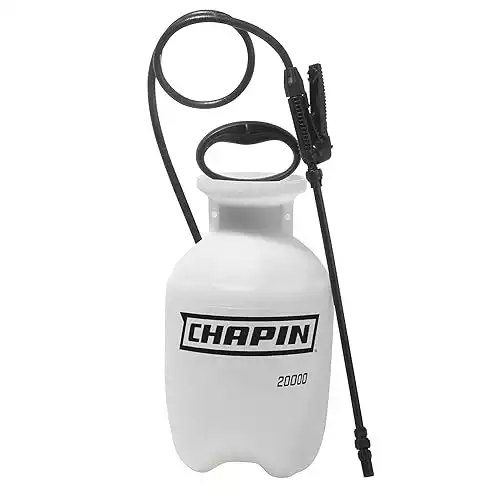 If you make a purchase, you support Hi-van.com by allowing us to earn an affiliate commission (no added cost for you).
Garden sprayers are great DIY camping showers that don't need to be hung on anything. The CHAPIN Garden Sprayer holds between one to three gallons, depending on which size you choose. These sprayers only require a few manual pumps, and they're ready to go. Use the pressurized nozzle to take a shower whenever you want to.
There are plenty of other DIY solutions you can try to pressurize your shower, removing the need for ropes, handles, and other hanging mechanisms. It's up to you to decide which route you want to go to maintain your hygiene while camping.
Find this content useful 🙂 ?
Subscribe to our Newsletter and get a free electric diagram + shopping list.