Hi-van is supported by its audience. When you purchase using our links, we may earn an affiliate commission (no added cost to you). Learn more
Electric vehicles (EVs) are everywhere, it seems. Everyone's talking about them, and as EVs get more affordable, everyone's buying them, too. But where do campervans fit into the EV conversation, and what does their future look like?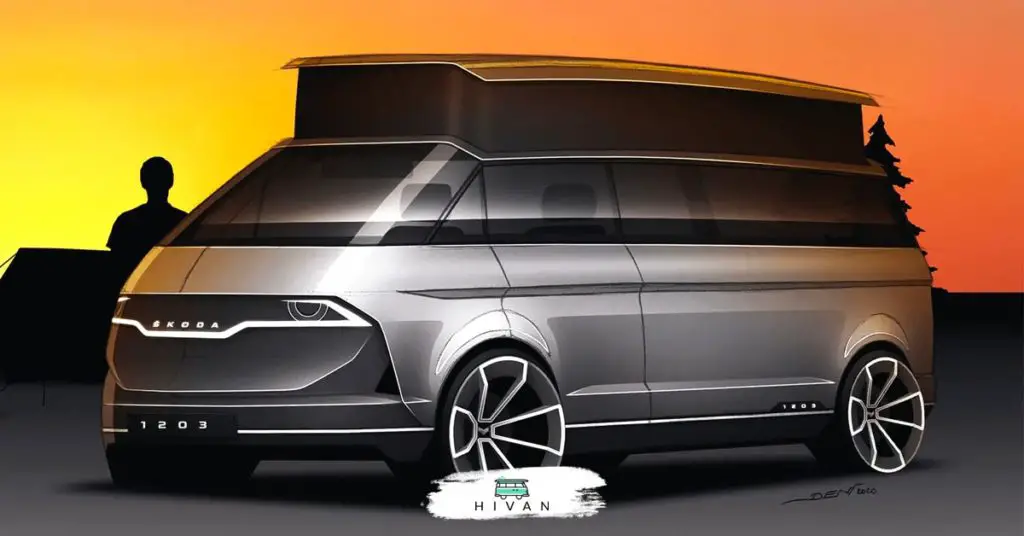 Yes, it's highly likely that campervans will eventually go electric, aligning with the broader automotive industry's shift towards electrification.
This transition is driven by various factors such as environmental concerns, advancements in battery technology, and regulatory changes that promote cleaner energy sources over fossil fuels. Here are a few considerations regarding the electrification of campervans:
Many van dwellers already make use of solar power and practice eco-friendly, low-waste lifestyles. It makes perfect sense that campervans will eventually go electric as the technology becomes more widespread. Let's take a closer look at the electric vans currently on the market and the ones that have been announced. 
---
Electric Campervans Now
American van dwellers will have to wait a few years to see electric vans on the market. However, European buyers can make the switch to an electric van now. Here are some of the electric vans that are currently available to van dwellers overseas:
LEVC VN5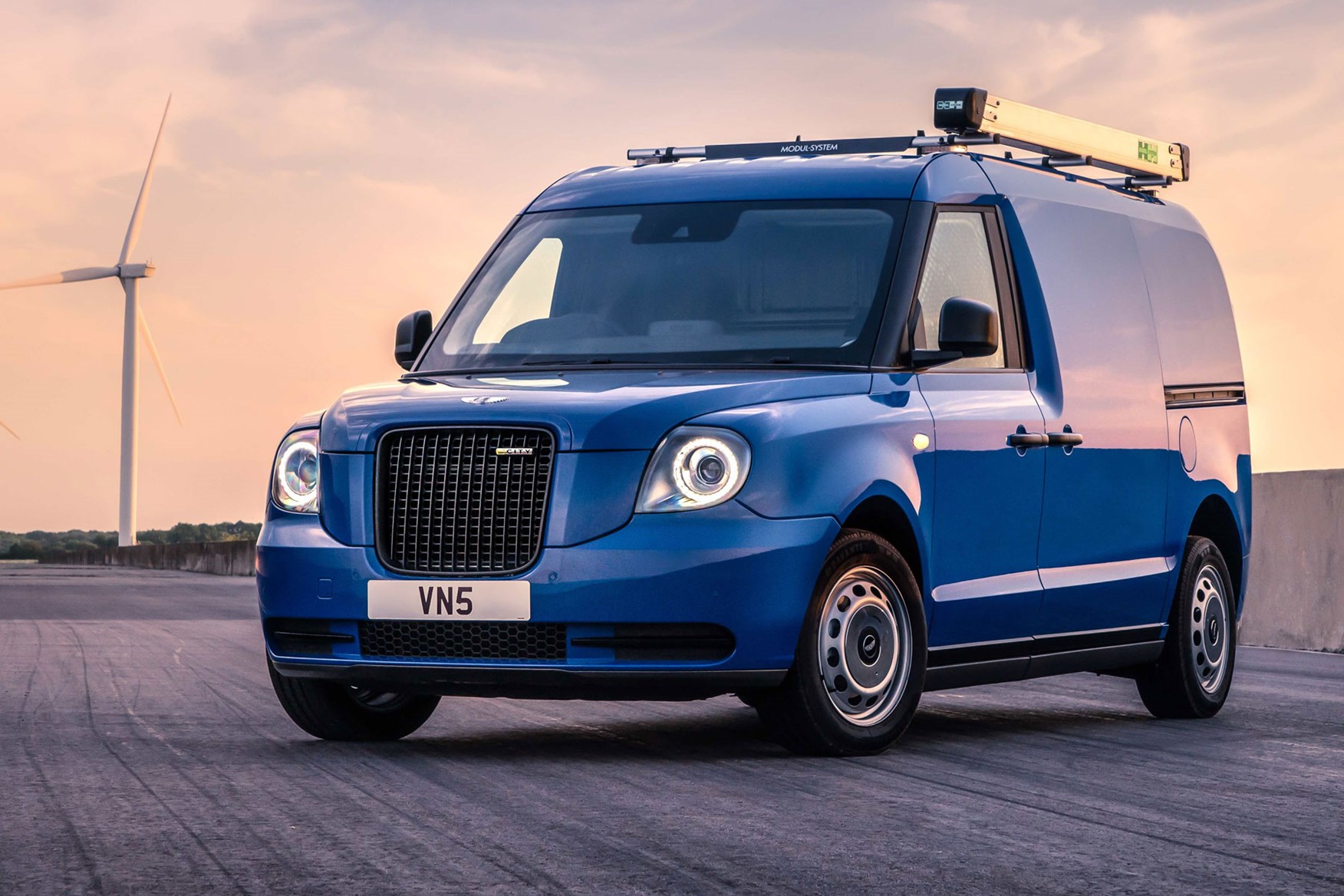 The London Electric Vehicle Company (LEVC) started by making electric taxis. They now produce all sorts of commercial electric vehicles. LEVC took their taxi design and modified it into a van, the VN5. The VN5 isn't exclusively electric. It can run on electricity, but only for 60 miles (96.56 km). Its hybrid or "flexible" range is about 300 miles (482.80 km). 
Though these vans are primarily intended for commercial use, they are a step in the right direction for electric campervans. As more tradesmen and delivery drivers use EVs, we will see more advancements made in electric van technology. We might even see some van dwellers taking these commercial electric vehicles and converting them into campervans soon.
Sussex Campervan E-NV200 Campercar
Sussex Campervans is a van conversion company that recently released an all-electric campervan, the e-NV200. Based on the Nissan NV200, this camper is sleek, comfortable, and never has to be gassed up. It has a range of about 150 miles (241.40 km), depending on driving conditions. 
The e-NV200 isn't cheap. Right now, one of these vans will cost you about £60,000 (or $80,000). However, after this initial investment, you'll never have to spend money on gas for your van, and you may be able to save money depending on whether your country offers tax breaks for EVs (like the UK does).
Dalbury E-Electric Campervan
The Dalbury E is another campervan conversion based on the Nissan NV200. Made by Hillside Leisure, the Dalbury E has been available for a relatively long time since 2015. At the time of its release, it was the first electric campervan conversion. 
At a quick-charge station, the Dalbury E can reach 80% in just 30 minutes. It has a range of 100 miles (160.93 km), which may not seem like a lot, but you'll save a fortune by not gassing up your camper.
---
The Future of Electric Campervans
Most electric campervans that have been announced are still in development. EV technology is still young and rapidly improving, and producing an eco-friendly campervan takes time.
This transition is driven by various factors such as environmental concerns, advancements in battery technology, and regulatory changes that promote cleaner energy sources over fossil fuels.
Here are a few considerations regarding the electrification of campervans:
1. Emission Regulations:
Stricter emission regulations are being implemented globally, pushing manufacturers to develop vehicles with lower or zero emissions. Electric campervans would meet these requirements.
2. Technological Advancements:
Advancements in battery technologies are making it feasible to have larger vehicles like campervans run efficiently on electric power. Improvements in energy density, charging speed, and overall battery life are particularly essential.
3. Infrastructure:
The expansion of charging infrastructure is making it more convenient to own and operate electric vehicles (EVs), including larger ones like campervans.
4. Consumer Demand:
There is a growing consumer demand for sustainable and eco-friendly products, including vehicles. People seeking the adventure of a campervan are likely to be drawn to an electric option that aligns with a commitment to a smaller carbon footprint.
5. Manufacturer Initiatives:
Several manufacturers are already in the process of designing and producing electric campervans. For instance, before my last update in September 2021, companies like Volkswagen had announced electric campervans, such as the ID.Buzz.
6. Cost-Efficiency:
The total cost of ownership of EVs, including campervans, is expected to go down over time with advancements in technology and economies of scale, making them financially attractive options.
7. Range Anxiety:
The "range anxiety" associated with EVs needs to be addressed. For campervans, which are often used for long journeys, having a more extended range and more accessible charging options will be crucial.
8. Integration of Renewable Energy:
The possibility of integrating solar panels and other renewable energy sources with electric campervans could make them even more appealing for those seeking off-grid adventures.
Challenges:
Battery Weight and Space: Campervans require larger batteries, which are heavy and occupy more space. This could be a challenge given that space is at a premium in such vehicles.
Charging Infrastructure: While improving, charging infrastructure, especially in remote areas where campervans are frequently used, needs significant enhancement.
---
Electric Vans and RVs available as September 2021
Nissan e-NV200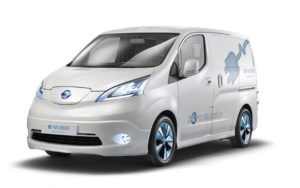 A compact electric van with up to 124 miles of range. It's versatile, suitable for both cargo and passenger use. Comes with a 40 kWh battery and offers quick charging capabilities.
Mercedes-Benz eSprinter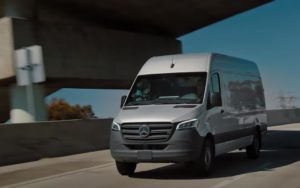 An electric version of the popular Sprinter van, aimed at delivering goods in urban areas. It offers different battery sizes, with ranges up to 104 miles, and payload capacities up to 2,293 lbs.
Ford E-Transit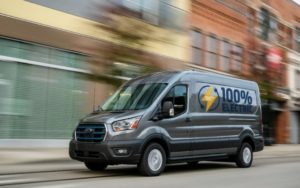 An electrified version of the popular Ford Transit, offering a range of up to 126 miles with a 67 kWh battery. It aims to serve the needs of businesses with a robust load capacity and various body configurations.
Renault Kangoo Z.E.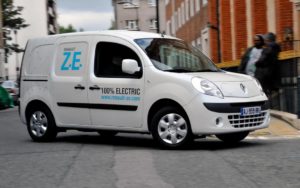 A small electric van popular in Europe, with a range of up to 143 miles. It's suitable for city deliveries and small businesses, offering practical solutions for cargo.
Fiat e-Ducato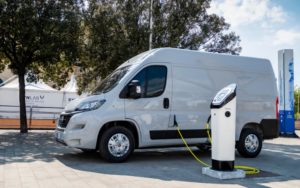 An electric version of Fiat's popular Ducato van. It offers various battery options, providing ranges from 99 to 192 miles, aiming to meet various business needs.
Winnebago e-RV (Concept)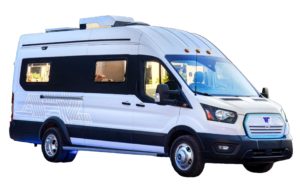 Winnebago explored an all-electric RV, primarily as a concept. It aims at short-range, specialty uses rather than long-range travel due to limited battery range.
Volkswagen ID.Buzz (out in 2023)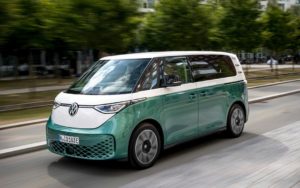 An electric campervan inspired by the classic VW Microbus. Expected to offer a modern, fully electric take on the iconic camper with innovative features.
Nissan e-NV200 Camper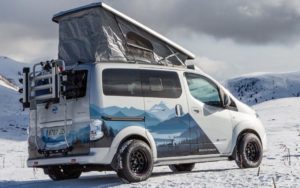 Nissan offers a camper conversion of the e-NV200. It's compact and suitable for short trips, with essential camper features in a small, eco-friendly package.
LEVC E-Camper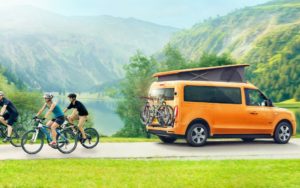 LEVC announced "the World's First Electric Campervan," the E-Camper. This van is based on the VN5 and has all the amenities you'd expect of a campervan. The E-Camper, like the VN5, can only run on pure electricity for 60 miles (96.56 km). However, unlike the VN5, this van isn't on the market yet.
Sylvan Sport All-Electric RVs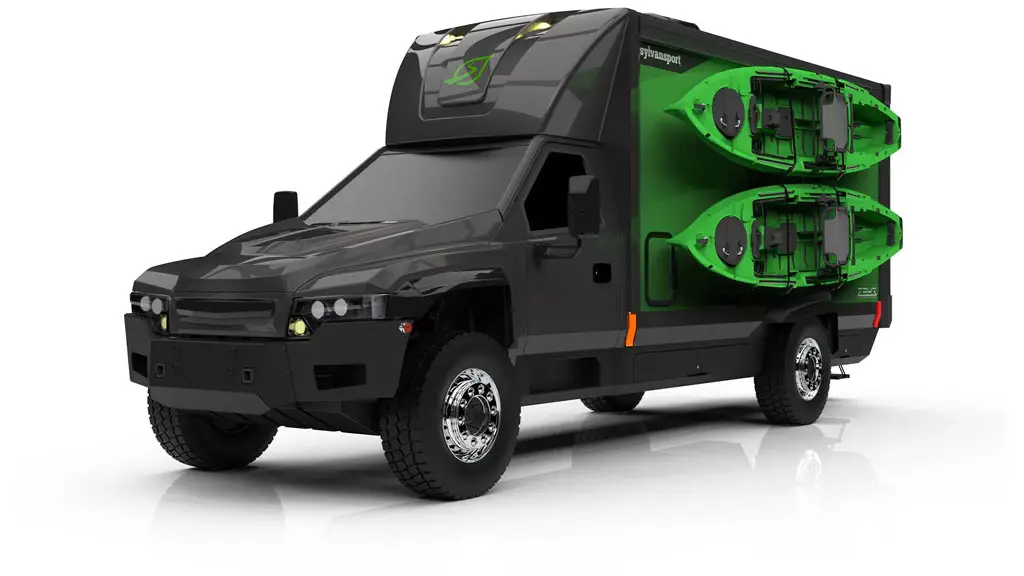 SylvanSport is an American company that produces camping gear. They hope to be at the forefront of electric RVs and motorhomes with their upcoming product line. 
SylvanSport partnered with Zeus Electric Chassis, an electric work truck company, for producing their RVs. These electric RVs will be equipped for off-road driving and a high weight capacity, essentials for many van dwellers.
---
---
When to Switch to an Electric Van
Obviously, American van dwellers can't switch to EVs even if they want to. Electric campervans simply aren't available here yet. But once electric campervans arrive on the American market, when should you make the change?
The biggest consideration you should keep in mind when switching to an electric campervan is the prevalence of EV charging stations. EV users are familiar with "charge anxiety," the fear of running out of charge before the nearest station. Campervans are heavy and have a worse range than other EVs, so charge anxiety is ever-present.
One major appeal of the #vanlife is the nomadic lifestyle, the ability to travel between National Parks and monuments with ease. But until there are more EV charging stations in the US, that just isn't possible with an electric campervan. Given the range of most electric vans and the prevalence of EV charging stations, you'd be very limited as to where you could drive.
In time, electric campervans will become more efficient. They'll have better ranges, and EV charging stations will be more prevalent. When there is a charging station at least every 100 miles of where you want to drive, you should be safe to drive an electric campervan.
Companies Specializing in Electric Campervan Conversions
Several companies specialize in converting existing vans into electric campervans, such as:
These companies offer conversion modules or services to turn regular or electric vans into campervans, providing customization options for consumers.
---
Final Thoughts
Electric campervans are not just a possibility; they are an inevitability given the current trajectory of the automotive industry.
The timing of their mainstream adoption will depend on how quickly the above challenges, especially those related to technology and infrastructure, are addressed.
Find this content useful 🙂 ?
Subscribe to our Newsletter and get a free Solar Electric Diagram + shopping list.