Hi-van is supported by its audience. When you purchase using our links, we may earn an affiliate commission (no added cost to you). Learn more
Choosing the best sway bar for your RV can optimize its weight distribution, prevent sliding, and make your journey much less stressful. However, there are countless options on the market, making sway bars seem far too similar. How should you know which one is right for your RV or campervan?
When you're picking an RV sway bar, you should look for its weight capacity, what type of sway bar it is, and the material it's made of. It's also important to ensure it's easy to install. A high-end sway bar should be made of steel and have a warranty.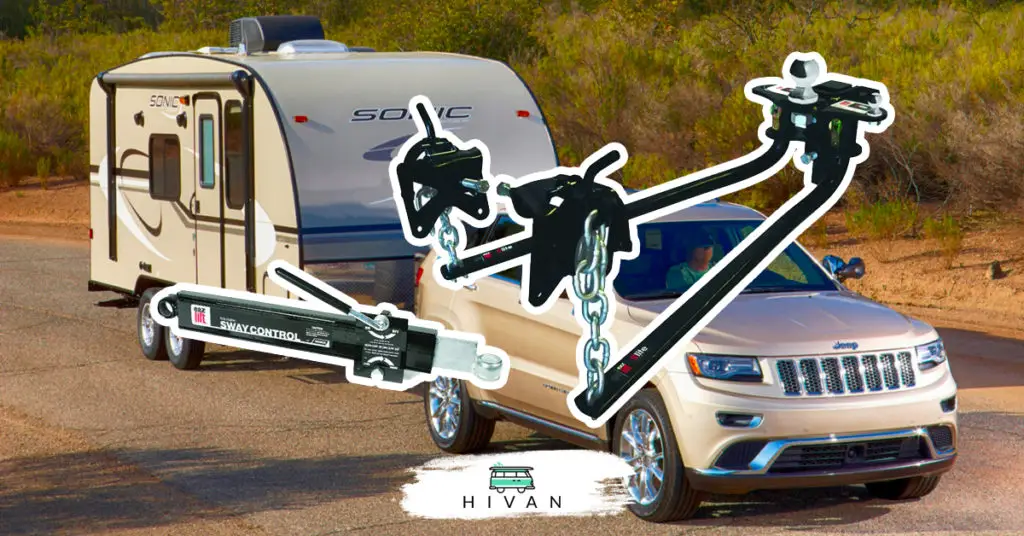 In this post, we'll talk about what you should look for when getting a sway bar, tips to know you're getting a good deal, and the three main types to choose from. We'll also review a few of our favorite sway bars for you to look through.
---
What to Look For When Getting an RV Sway Bar
RV sway bars come in all shapes and sizes, but they all have the same goal. This issue could make it tough to know which is right for your motorhome. That being said, there's a handful of factors you could look for to narrow your search and find the perfect match.
Consider these five factors when choosing a sway bar:
Check the materials to ensure they're up for the job. According to DIY Auto Service, steel is the best material for RV sway bars because it offers durability without the change of flexing or breaking. It's a bit heavier than aluminum and similar materials, but your safety is well worth the difference.
Consider how you'll install the sway bar on your RV and how quickly you can unhook it. Nobody wants a sway bar that takes an hour to install and operate! Ease of use is prized by many companies these days, so you won't have to worry about difficult installations (unless you get a used sway bar).
Always ensure the sway bar fits your vehicle before purchasing it. Check your vehicle's towing capacity and add the sway bar's weight before your motorhome. It's important to get something that's not too heavy for your vehicle. The bar's weight capacity is also crucial.
Anti-rust or waterproof coatings are a welcome bonus. Some of them have a weatherproof coating, while others use special paint to prevent water from ruining the metal. This feature isn't necessary, but it's incredibly beneficial, especially if you're spending a lot of money on a long-term investment.
Choose your favorite type of sway bar. The three primary sway bar types are friction, dual cam, and suspension bars. All three of them slow or prevent swaying, but they function very differently. We'll cover everything you need to know about all of them in the following section.
These five considerations will help you choose a good sway bar, but they're not the only thing to keep in mind. We also need to think about which type you prefer and how to know if you're getting a decent deal. Some companies try to scam people with cheap, low-quality sway bars that only last a couple of years.
---
Types of RV Sway Bars
Your sway bar will be able to handle sudden movements caused by wind, passing vehicles, sharp turns, and more. Many drivers find sway bars to be irreplaceable safety features for RVs of all sizes. You can decide which type of sway bar fits your vehicle and keeps you feeling safe and in control at all times.
Here are the three sway bar systems to choose from:
Friction Sway Bars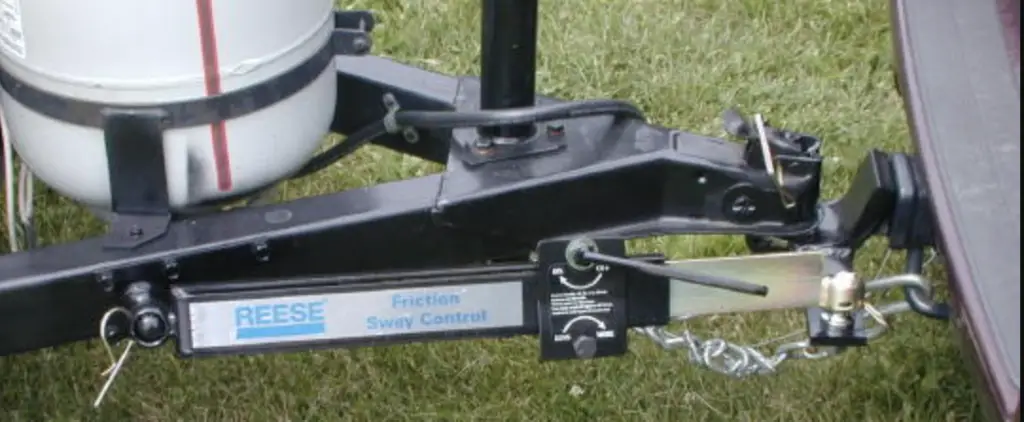 Perhaps the most common and old-school sway bar is the friction bar. It works by causing tension and friction between the bar and the RV, slowing it down when it tries to sway. Friction sway bars are prone to wear and tear because the joints constantly grind. However, steel variants are built to last.
Drivin' Vibin' explains friction sway bars are ideal for those who have a small, lightweight RV. A single-bar system can hold up to 5,000 or 6,000 pounds, but you'll need a double-bar friction sway system if your vehicle is heavier. They can get quite pricey, which is why many drivers opt for a dual cam system.
Dual Cam Sway Bars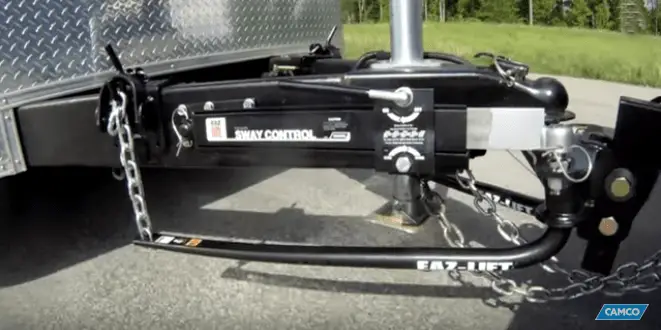 Dual cam sway bars have a spring that bounces each minor movement back into alignment. These small adjustments prevent sway, drastically reducing the difficulty of driving in the wind or passing sharp corners.
The only downside of getting a dual cam sway bar is how expensive they are. They can be quite pricey compared to the other two types. However, if safety is your top priority, these systems should be at the top of your list. They're heavy-duty, easy to install, and handle severe swaying that could potentially damage your RV.
Suspension Sway Bars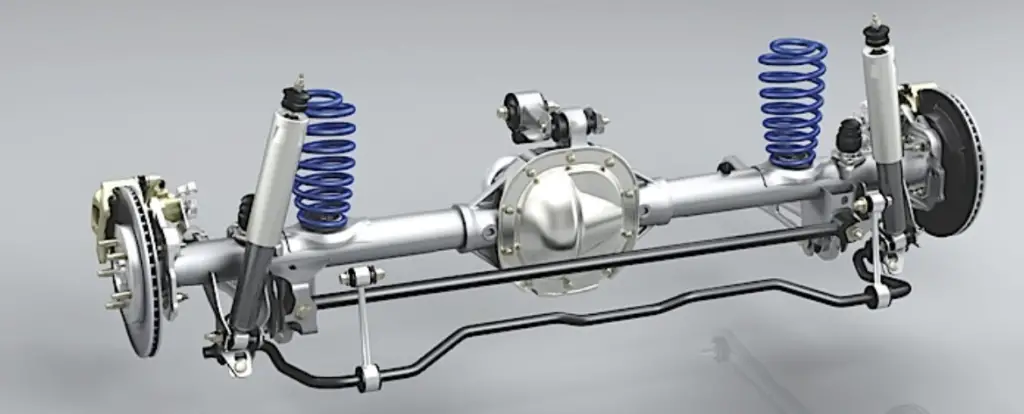 Suspension sway bars distribute the sway's force evenly. When your vehicle should sway, the suspension system pushes the weight to the inner tires if you're turning. For example, if you're turning around a corner to the right, the sway bar will put the weight on the front and rear right tires rather than swaying out to the left.
Suspension sway bars are good for all RV weights, as long as they're within the bar's recommended capacity. Their only issue is you'll likely have to rotate your tires more often to prevent uneven wearing and flats. That being said, suspension systems are quite useful and effective for many RVers.
Find this content useful 🙂 ?
Subscribe to our Newsletter and get a free Solar Electric Diagram + shopping list.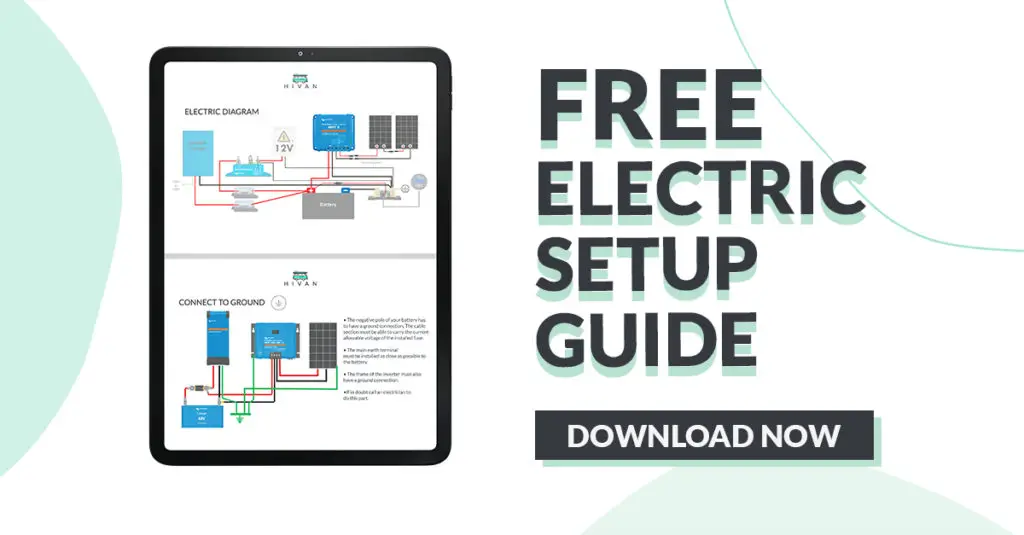 ---
How to Know When You're Getting a High-End Sway Bar
Getting scammed for a low-quality product is frustrating, but it's even worse when you spend hundreds of dollars on something you shouldn't have purchased. Used sway bars are questionable, which is why we suggest getting a brand-new setup for your RV or camper trailer.
So, how do you know if you're getting a good deal? Read on.
Always get a manufacturer's warranty on your sway bar. Warranties are essential, regardless of the type of sway bar you buy. The warranty should be at least six months to cover potential manufacturer part issues. Getting an extended warranty is worth it for the peace of mind when you're on the road.
Check comparable sway bars to review their price range. You shouldn't have hundreds of dollars more than you have to, especially if there are similar sway bars with the same durability and functionality. Always compare your sway bar to at least two or three others to know if you're getting the best deal.
Never get a sway bar if it shows signs of rust, corrosion, cracks, or chipped paint. These issues might seem insignificant, but they can spread and break your sway bar. If you take a sharp turn with a broken sway system, your trailer will fall off and go down the highway. Inspect all sway bars thoroughly before installing them.
Look for a return policy in case it doesn't suit your needs. Return policies let you know that a company is confident in its product. If they have a no-money-back policy, there's something sketchy going on. Ensure you have a couple of weeks to test the product before getting it.
Auto Lovins mentions you should be able to talk to the manufacturer about materials, returns, warranties, and other subjects without them steering the conversation elsewhere. If they don't want to answer your questions or try to claim their product, "doesn't need a warranty or return policy because you'll love it," it's not worth the risk!
---
Best RV Sway Bars On the Market
There are plenty of top-notch sway bars, but we've compiled our favorites. Based on durability, functionality, and customer feedback, we've chosen the following sway bars as the best on the market.
Camco EAZ LIFT Elite
The weight distribution hitches with sway control have a maximum tongue weight capacity of 1,000 lbs and a maximum gross weight rating of 10,000 lbs.
Save time with our weight distributing hitches that come in kits with mounting hardware and pre-installed components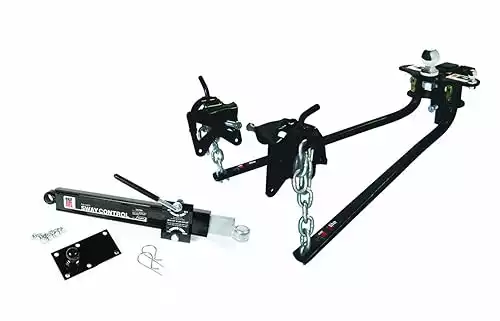 If you make a purchase, you support Hi-van.com by allowing us to earn an affiliate commission (no added cost for you).
The EAZ Lift Sway Bar comes in multiple sizes to fit almost any RV. This heavy-duty friction system uses steel bars and chains to keep your RV towing as long as you need it to. Despite its heavy-duty capacity and construction, this high-tier sway bar only weighs 30 pounds. Hook up your RV in a couple of minutes and hit the road with ease.
Perhaps the most convenient feature of this sway bar is the fact that it comes pre-installed. Every component is built when you take it out of the package, unlike many competitors who leave the installation in your hands. There's even a hitch ball to mount to the vehicle if it doesn't have one.
Bottom Line: This system is as good as it gets. From the thousands of positive customer reviews to the easy installation process, you won't find many sway management parts that come close to it. It's solid from top to bottom and includes additional pieces for almost all motorhomes and other vehicles.
Pros
This sway bar is made of heavy-duty components to last a long time.
It includes a one-year manufacturer warranty.
Everything is assembled when you get it out of the box.
Choose from several sizes to find the perfect match for your RV.
Cons
Some customers complained of a bit of noise when turning with the sway bar.
---
Husky Center Line TS with Spring Bars
Gross Trailer Weight; up to 12,000 lbs.
Forged and hardened steel components deliver excellent long-term durability and service, hitch ball is factory pre-installed and properly torqued.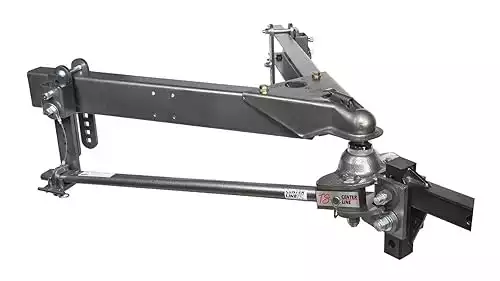 If you make a purchase, you support Hi-van.com by allowing us to earn an affiliate commission (no added cost for you).
Husky is one of the top brands when it comes to outdoor supplies. The Husky Center Line Sway Control is an excellent example of their precise attention to detail, reliability, and tough design. These high-end sway bars are made for RVs of all sizes, so there's bound to be the perfect setup for you.
The Husky Center Line comes with everything you need to mount an RV up to 12,000 pounds. It locks its movement, preventing the vehicle from swaying too far in either direction. Rather than putting all of the weight to the back of the towed vehicle or trailer, it distributes the weight from front to back. The result is an easy steering system throughout your drive.
Bottom Line: Husky has done it again with this simple yet effective design. These sways bars are perfect for people of all experience levels; You don't need to be an RV expert to assemble them. They come with clear instructions, excellent customer service, and more.
Pros
Husky is a well-known brand with great warranties.
It works for RVs up to 12,000 pounds.
Made out of steel alloy for a lightweight, durable alternative.
The compact design makes it easy to install onto your vehicle.
Cons
It's not assembled, so you'll have to spend a little while putting everything together before installing it.
---
Are you looking for a lightweight, portable sway bar for a trailer up to 10,000 pounds? The Fastway Sway Control Bar is a top-shelf sway bar for all sorts of vehicles. It comes in multiple styles, including weight differences and with or without a ball.
The company trusts their product so much that they provide a limited 10-year manufacturer warranty with each sway bar. Regardless of the style you choose, you can rely on its weatherproof design to withstand wind, sunshine, snow, rain, and more.
Bottom Line: If you're looking for an affordable alternative that has all of the bells and whistles, the Fastway Sway Bar is worth checking out. It's packed with high-quality materials and many durable fittings to match your RVs setup.
Pros
Choose from four sizes between 6k to 10k pounds.
It comes with a 10-year warranty.
It evenly distributes the weight between your vehicle and the sway bar.
Made out of solid steel components.
Designed with anti-rust coatings.
Cons
Fastway isn't as known as Husky, which may or may not be an issue for you.
Conclusion
Now that you know what to look for when getting a sway bar, you can find the best one on the list or search for one at your local camping store. Remember, steel construction and a long warranty are an absolute must for most campers. These features ensure longevity and drastically limit the possibility of swaying.