Whether you're traveling for a few weeks or wanting to make it permanent, finding the right toaster oven for your new journey is challenging. Still, it is a useful appliance, especially in a limited space. 
The best toaster oven for van life is the Mueller Austria Toaster Oven. Those looking for a budget-friendly alternative will be impressed by the Comfee' Countertop Toaster Oven. Shoppers looking for a more multifunctional unit will be thrilled with the Nostalgia Retro Breakfast Station.  
This article will go into depth on the benefits that these three toaster ovens have to offer.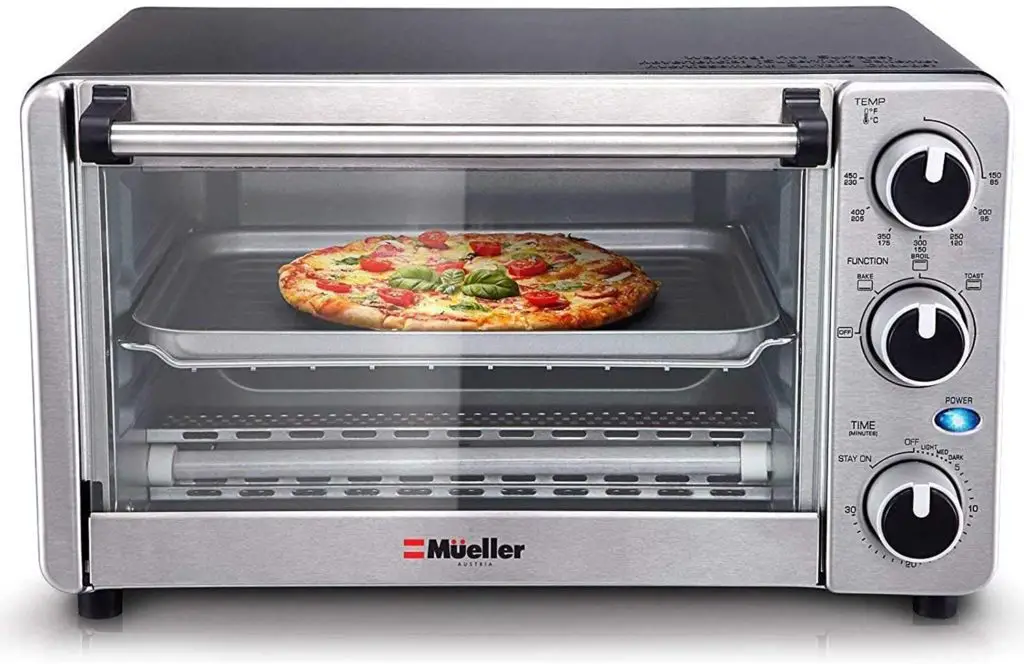 Mueller Austria's Multifunction Toaster Oven is the best option for any traveler looking for an easy to use, 4-slice, convection toaster oven. This travel toaster is capable of meeting all of your cooking needs on the road. 
This toaster can be used for baking, broiling, keeping food warm, and perfection (excuse me, convection), which means that your food will be heated evenly. 
You can make a variety of foods in this toaster—anything from toast to cookies to pie. And users shouldn't have any issues controlling the temperature, heat, or timer as there are easy-to-use knob controls for each.
Further, this toaster is able to match traditional ovens' temperature ranges of 150 ℉ to 450 ℉, which means you get the same results of an oven but in a more compact form that can be utilized on the road. 
If you are wondering about capacity, this toaster can accommodate the foods you need most as it includes a baking pan and dual rack position. It can cook a 9-inch pizza or toast up to four slices of bread. 
The large glass door window and 30-minute timer make it easy to keep an eye on your food to cook to the best specification. And if you happen to take a quick break, there is a nice auto shut-off feature. This aspect is a good safety precaution so that the food only cooks for a certain amount of time and doesn't overheat. 
Finally, when it comes to protecting your appliance, this manufacturer offers a 2-year warranty, meaning hassle-free replacement if anything were to go wrong. 
It's hard not to love all of the features that the Mueller toaster oven has, which is why it is our top pick.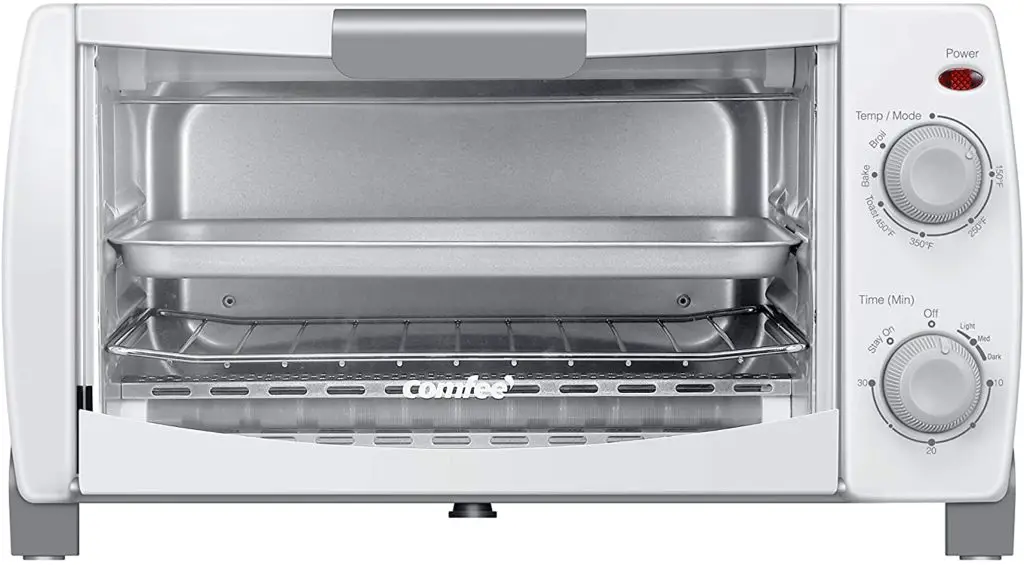 If you are looking for a more budget-friendly alternative but has similar features to the Mueller Austria Multifunction Toaster Oven, the Comfee' Toaster Oven Countertop is an impressive go-to. Don't think that a lower price means that it's not worth your time. This compact, versatile toaster oven offers it all. 
Similar to the Mueller Austria, this toaster oven also has the ability to broil, bake, and toast to satisfy all of your daily dietary needs. Users have more room to fit a variety of foods with the nicely added dual-rack. 
This model features two very easy-to-use control knobs. The one on top controls the temperature and cooking modes, while the one on the bottom sets a timer for 30 minutes and your toast preference. It also offers a useful aspect of a stay-on feature for food that needs more time than the 30-minutes. 
But one of the best features of this product is the non-stick, removable crumb tray to make cleaning as easy and effortless as possible. In other models, it can be a hassle when the filter isn't easy to detach. 
In addition, this product is backed with a one-year warranty. This policy provides coverage and protection against an accident with the product. 
Easy, affordable, and multifunctional. What more could you ask for?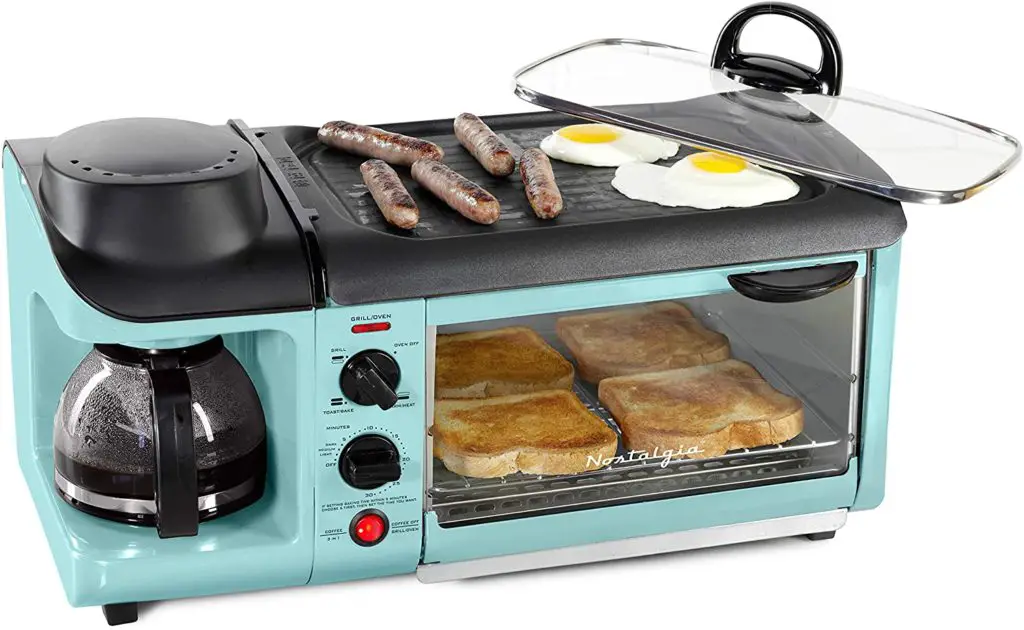 If you're heading on the road and want a product that serves multiple purposes such as toasting bread, brewing coffee, and cooking some eggs, then the Nostalgia Retro Breakfast Station is your best option. It covers your whole breakfast simultaneously and has a nice, unique compact design that is perfect for saving space. 
The following are included in this product: 
Toaster oven. This toaster has a control panel with very specific settings labeled on each knob. There is also an indicator light to show your toaster is on. 
Coffeepot. This coffeepot can hold up to four cups of brewed coffee, and it also comes with a glass carafe, a scoop for handling coffee, and a filter that can be reusable. You can even pick your best roasting option (light, medium, or dark). 
Griddle. This is a larger, nonstick griddle that is accompanied with a tempered glass lid as well. 
Crumb tray. Easy, effortless, and hassle-free cleaning. 
So, if our top pick isn't what you are looking for, the Nostalgia Retro offers many other features for a great price. 
Best Toaster Ovens for Van Life: Buyer's Guide
Picking the right toaster oven can be a daunting task, but it doesn't have to be. This section will discuss the important parts to make sure that you have the resources you need to find the best toaster oven for your van life. 
Size
All caravans have a certain amount of kitchen space to work with. It's an important consideration if you are trying to save some counter space. The best toaster ovens for traveling or living on the road are lightweight and compact; otherwise, it will consume too much space. 
It's also necessary to consider the size inside the toaster. You want to make sure that it has the capacity to accommodate the amount of food you will be making. 
Price
Typically when you are purchasing a toaster oven, the price tag increases with the number of functions that you are looking for. It all depends on what you are planning to use the toaster for. Simpler models tend to be much cheaper. 
Other factors that can affect the pricing are the brand, size, or capacity. And the price range can be anywhere from approximately $20.00 to well past $200.00. 
Functions/Uses 
When buying a toaster oven, you'll want to have an idea of what it will be used for. Are you going to be sticking to making toast, or do you want to be able to cook a chicken too? 
As technology advances, more special features are being added to these toasters. You might consider using digital options rather than control knobs, or you might just want to have the ability to choose different heating options. 
Temperature is another feature. Do you want the versatility of oven temperatures that can range from approximately 150℉ to 450℉ (66°C to 232°C) or would you prefer lower standard toaster oven temperatures?
Looking into these options can be helpful for your specific desires.
Warranty
This is one of the best factors to look into. Most toaster ovens come with at least a one-year warranty, but not all. It's always good to know that you are covered and that your warranty offers protection and return policy. 
Conclusion
While we feel that the Mueller Austria is the best option, there is no denying that the Comfee' is a great budget-friendly alternative. Not to mention, if you are interested in a multifunctional unit that offers the ability to have an entire breakfast made, then the Nostalgia Retro would be a good investment. 
Of course, there are many factors to consider when looking to purchase a new toaster oven. Using the information in this article, you will have a better chance of finding success with the best toaster oven.